Editor's note: Bob Grace, regional president of Jaguar Land Rover Greater China, recently spoke about the company's latest initiative, the Children & Youth Dream Fund.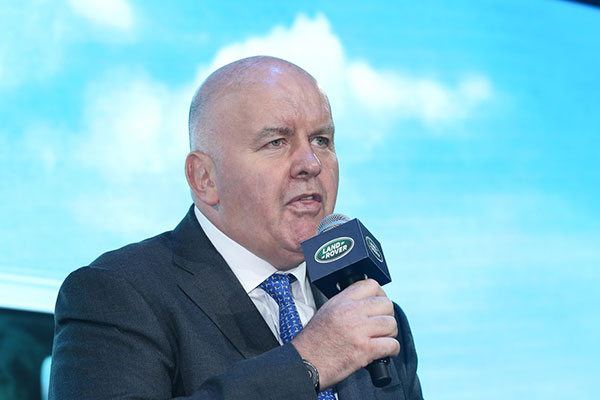 Bob Grace, regional president of Jaguar Land Rover Greater China. [Photo provided to chinadaily.com.cn]
Q: What was the main driver to set up the fund?
A: I'm passionate about China, and as we grow our business in China, we must do so in a responsible and sustainable way. And I believe that as we enjoy success, as a good corporate citizen we also have a responsibility to make a real contribution to Chinese society in the broadest sense. The fund allows us to do that in the most strategic and structured way, reaching out to as many people as possible to change their lives for the better.
Why do you have a focus on children and youth, and in particular disadvantaged young people?
As a father of five children, I want to see all children flourish. I strongly believe, the future of China lies in the hands of our children and youth. Underprivileged kids from disadvantaged and remote regions need that extra bit of support to help them achieve their full potential. I'm convinced this is the area where we can have the most impact. By putting resources in the places most needed, the fund will help every young person who participates in the program to make the most of their talents and abilities in building tomorrow's China.
How will you judge the success of the fund?
The goals for each project will be clearly mapped out and are intended to make a significant contribution to Jaguar Land Rover's global goal of improving the lives of 10 million people, and advancing the knowledge of 2 million young people.
On the other hand, we also want to see a wide social engagement, so there are great opportunities for volunteering activities involving Dream Ambassadors, such as accompanying medical trips, and helping to coach sports for kids. This will be a great way for these individuals to make their own contribution in building for the future.
How do your CSR efforts fit in with the rest of your business operations?
Although there is now a specific CSR fund, we don't see this as a separate part of the company. Rather, corporate responsibility is part of everything we do.
This includes making sure our products are as energy efficient as possible with low fuel consumption and emissions, and are as safe as possible for both the driver and other road users.
CSR is also an integral part of our localization strategy as we bring our company's business to the next level with local production here in China. The production facilities here are designed to be eco-friendly from the ground up to reduce the environmental impacts of vehicle production at every stage of the life cycle.
And we take a responsible attitude to our employees with the best training and education so they reach their full potential within the company and in society in the broadest sense.
So to sum everything up, aligned with global goals of social responsibility, the Dream Fund will complement our push for sustainability with responsible products, eco-friendly manufacturing, and long-term growth of our staff on both a personal and professional level.