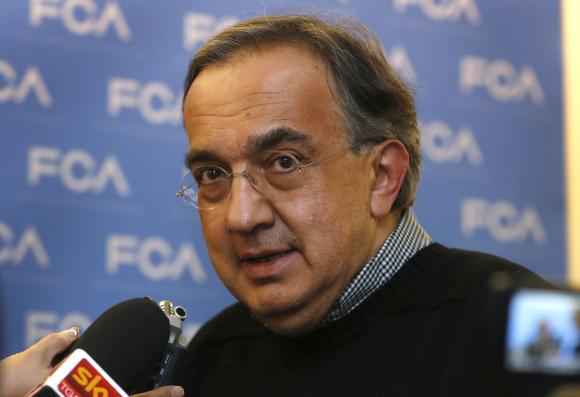 Fiat Chrysler CEO Sergio Marchionne talks to the media during the FCA Investors Day at the Chrysler World Headquarters in Auburn Hills, Michigan May 6, 2014. [Photo/Agencies]
Fiat Chrysler Automobiles Chief Executive Officer Sergio Marchionne said the company will be much stronger than it is today at the end of his plan to sell 7 million cars by 2018, even if it misses the targets he set forth last week.
"The targets are the targets. But even if I miss it by 10 percent, from where I am today, it's like (the) midget and the Jolly Green Giant," Marchionne said at the dedication of a new transmission plant in Tipton, Indiana, on Tuesday.
His suggestion was that Fiat Chrysler would prosper, whether or not it falls a bit short of meeting some of his lofty goals.
Last week Fiat shares fell 13.5 percent as Marchionne revealed a five-year plan that calls for the global sale of 7 million vehicles from 4.4 million in 2013 and a fivefold increase in net profit.
Many Wall Street analysts said they were concerned that Fiat Chrysler would be unable to meet the ambitious goals.
Marchionne said the targets were to spur his troops to greater heights after the first five-year plan, from 2009 to 2013, that righted a near-bankrupt company to one that will be introduced on the New York Stock Exchange late this year as the seventh-largest car company in the world.
"People think I do these plans for the benefit of the capital markets. That is the irrelevant portion of the pitch.
"The exercise of leadership requires the setting of some pretty bold objectives. The house needs direction. The plan is a structure that provides direction. So don't quibble about whether I sell 400,000 Alfas or I sell 382,000."
The company also plans to sell 150,000 Alfa Romeo cars in North America by 2018. It now sells no Alfa Romeo models in the United States or Canada.