Despite its early entry in China, French automaker Peugeot Citroen has failed to grab a significant market share, trailing far behind German and Japanese brands.
But at the ongoing Shanghai auto show the company announced its ambitious goals to sell 540,000 Peugeot and Citroen cars in 2013 and take 5 percent of the world's largest auto market in 2015, mainly by introducing an array of locally made products that cover various segments.
"As the most important overseas market for Peugeot Citroen, China has a pillar role in our strategy," said Philippe Varin, chairman of the Peugeot Citroen Group, during an exclusive interview with China Daily at the show.
"We will stick to our global strategy and go for a higher-end market to fuel development of the entire group," he added.
China became Peugeot Citroen's largest market in the first quarter of this year, when it sold 142,000 vehicles.
Together with its two Chinese joint ventures - Dongfeng Peugeot Citroen and Changan Peugeot Citroen - the French carmaker has a number of new products on display at the auto gala.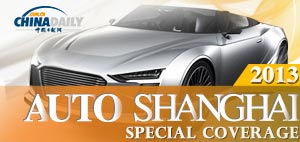 Two compact sedans -the Peugeot 301 and new Citroen Elysee that made their Asian debuts at the event - will be locally made at Dongfeng Peugeot Citroen in the Central China city of Wuhan starting in the second half of the year.
The plant is expected to become operational with an annual production capacity of 350,000 units, raising the entire annual production capacity of the joint venture to 750,000 units by 2015.
The compact SUV Peugeot 3008 and the compact sedan Citroen C4L just introduced to Chinese dealers are also on display.
The 1.8-liter C4L, retailing between 123,900 and 185,900 yuan, is expected to help boost Citroen's China sales to 400,000 units by 2015 from 224,000 units last year.