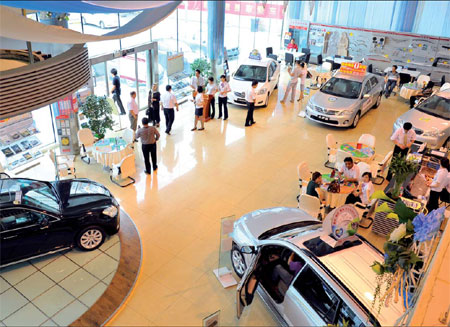 An outlet of China Grand Auto in Urumqi, Xinjiang Uygur autonomous region. [Photo/China Daily]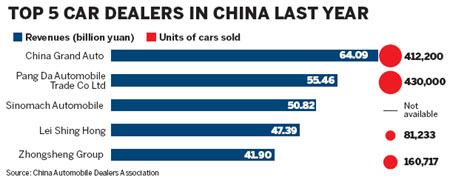 As car sales slow in many parts of China, it's only open roads ahead for some sellers
Most auto dealers in China have been having a rough time over the past 18 months since the government took steps to rein in the number of vehicles cluttering the country's highways and byways, but China Grand Auto, which has the highest revenue of any auto dealership in the country, has continued to make big inroads, thanks to its sales in Central and western China.
Last year the group sold more than 410,000 cars nationwide, more than 90 percent of those in central and western areas, including Xinjiang Uygur autonomous region, Guizhou and Sichuan provinces and Chongqing municipality.
According to figures from China Automobile Dealers Association, China Grand Auto surpassed Pang Da Automobile Trade Co and became the largest auto dealership last year, with revenue of 64 billion yuan ($10.05 billion, 8.19 billion euros).
China Grand Auto is a relative newcomer to the market, being 6 years old, but its genesis goes back a lot further to 1989, when its parent company Xinjiang Guanghui Industry Investment Group was founded in Urumqi, capital of Xinjiang.
Over its short life, China Grand Auto has expanded into a network of 400 outlets in about 20 regions of China, selling more than 40 mid-range to high-end car models. About 90 percent of these outlets are located in central and western China.
In the popular imagination, western China is an underdeveloped region compared with eastern and coastal areas, and guided by such thinking only mid to low-range cars would have a market there. But Wang Zhen, CEO of China Grand Auto, says the company has destroyed that myth by successfully going for the mid-range to high-end market in that region.
Wang worked in General Electric China for 13 years before joining China Grand Auto in 2008.
"Many people imagine western cities would be rife with low-end cars, but everywhere you look in Urumqi there are expensive SUVs," he says.
But even if the popular conception about western markets is misguided, they may well bear certain idiosyncrasies.
Luo Lei, deputy secretary-general of the China Automobile Dealers Association, says the western markets lag behind their east coast counterparts.
"The traits of the western market are those that the eastern market displayed five years ago," he says.
What makes the western auto market stand out, he says, is that it has gone into top gear, and now there is even talk of cities such as Chengdu catching up with big cities such as Beijing, Shanghai and Guangzhou. Indeed, Chengdu now has the country's fourth most influential annual auto show.
Thanks to China Grand Auto's focus on the fledgling market in the central and western China, its revenue grew 30 percent last year, just as growth was falling significantly in the east, particularly in first- and second-tier cities.