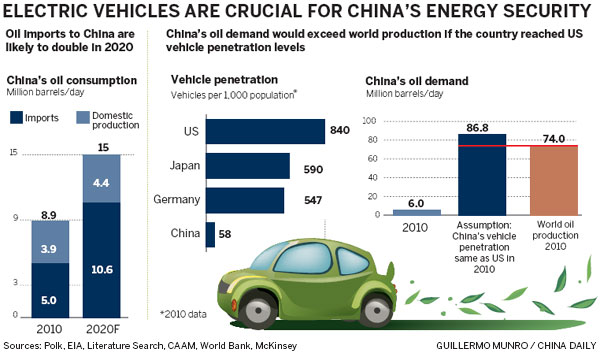 Despite the lackluster sales of electric vehicles in China, the nation may still become a global leader in the electric vehicle industry if policymakers and manufacturers shift their focus from battery-electric vehicles toward a mid-term perspective concentrating on plug-in hybrid electric vehicles, said the global management consulting firm McKinsey & Co.
The US company's prediction came in its report Recharging China's Electric Vehicle Aspirations released on Friday, which was based on interviews with more than 30 policymakers, industry leaders and experts.
"Despite challenges and initial setbacks, electric vehicles are here to stay in China, as a better solution to solve China's energy and pollution challenges," said Axel Krieger, partner in McKinsey's Beijing office and leader of McKinsey's China Auto Hub. "Moreover, as there is no shortcut to battery electric vehicles, plug-in hybrids can be the right bridge to the long-term goal of pure electric vehicles' take-off."
He indicated that by producing plug-in electric vehicles, China's automakers will have a better chance at kick-starting electric vehicle sales.
McKinsey estimated that plug-in electric vehicles with 15 kilowatt-hour batteries will become cost competitive with internal-combustion engine vehicles in China by 2017. Plug-ins with smaller 10 kwh batteries could reach cost parity with combustion engine vehicles as soon as 2014.
China now risks falling short of its electric vehicle aspirations, with 6,000 electric vehicles, no more than 10 models, produced in 2011, only 0.03 percent of the year's total output, well short of the 500,000 industry capacity it had slated to come on stream by 2015, according to the report. The 16,000 charging piles built in 2011 were also far lower than the industry's target of 400,000 units by 2015.
McKinsey's research also suggested that public transport fleets such as bus fleets are likely to be in the first wave of electric vehicle adopters in China, rather than consumers. McKinsey estimated that the total electric bus fleet could grow to 100,000 units by 2016.
"China still has a very good chance of realizing its aspirations to become a global leader in electric vehicles. Achieving this goal will require stakeholders across the electric vehicle industry value chain to calibrate both their expectations and their actions," said Krieger.
"China's government, auto makers, parts suppliers and infrastructure providers must collaborate more closely in crafting a new strategy," he added.
Larry Wang, principal of McKinsey's Shanghai office, added that "China faces a unique opportunity to leverage its enormous scale to develop an electric vehicle solution that could succeed not only at home, but which could potentially conquer global markets. Industry players need to take very different approach than they have so far."
The State Council on Wednesday adopted the long-awaited industry development plan on energy saving and new energy vehicles, saying that pure electric vehicles and plug-in hybrid vehicles will be the strategic orientation for China to ease its energy and environment challenges.
China also set a target of cumulative production and sales of 500,000 units of pure electric and plug-in vehicles by 2015, and more than 5 million units by 2020, through providing subsidies, and accelerating the establishment of charging facilities for electric vehicles.
lifangfang@chinadaily.com.cn