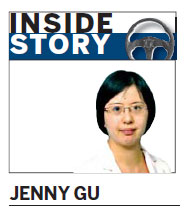 The recent list of approved vehicles for government purchase from the Ministry of Industry and Information Technology has caused quite a stir because all 412 models are Chinese brands.
It is a particular setback for Audi, traditionally the brand of choice for the Chinese government. Some foreign media have been particularly critical of the list, calling it a violation of WTO principles.
But I believe the policy is in line with public opinion that government purchases require greater scrutiny and more cost controls. After all, it seems unreasonable to use taxpayer money to buy luxury cars for a small group of public officials.
To become a supplier of official vehicles in China you do not need to be a Chinese brand, but the three conditions placed on procurement are difficult for foreign brands to meet.
Vehicles sold for official purposes, such as tax collection or criminal investigation, must have an engine size of 1.8 liter or below, cost no more than 180,000 yuan ($28,571) and the manufacturer must have spent no less than 3 percent of its core revenue on R&D in China in the past two years.
The first two conditions block out luxury brands such as Audi and BMW, which typically have large displacement engines. But it is the R&D condition that all foreign brands struggle to meet.
Most foreign vehicle makers look to their China facilities for high volume vehicle production and profit, not usually R&D.
If foreign brands spent some of their profit on developing a cheap model to meet the first two criteria, say 3 percent of their revenue, they too would be eligible for inclusion on the list, and that reality invalidates any argument that the conditions are a violation of WTO principles.
Though the new purchase rules might be a disappointment to some foreign manufacturers, it is the private sector that has been their core area of growth in recent years anyway.
Even Audi, which started business in China with the A6L - long a traditional government vehicle - has shifted its focus to the private sector.
In 2011, official vehicles accounted for around 20 percent of Audi's total sales. This percentage is expected to decline further in 2012, with increasing Q5 and new generation A6L sales targeting private customers.
The top 10 foreign brands in 2011 sold a total of 7.2 million vehicles, of which 14 percent were for official purposes (including both government and business).
If we assume 50 percent of the official vehicles were for government use, only around 7 percent of sales might be impacted by the new rules. The rule should not be too heavy a blow for foreign brands.
Yet enforcement of these new regulations is a major uncertainty, and one which will no doubt dampen the excitement of Chinese carmakers.
In 2009, an auto industry restructuring plan required that Chinese brand vehicles account for no less than 50 percent of government vehicle purchases.
But it appears the regulation was not really enforced.
In 2011, only about 6.7 percent of the official vehicle sales (including both for government and for business) were Chinese brand vehicles.
Chery has been included on the government purchase list since 2005, but the percentage of its sales for official purposes only accounted for around 6 percent in 2011.
For Chinese brands, the biggest positive impacts from the latest rule are expected to be brand image and perception.
Customers are not going to buy poor quality vehicles with low service levels whether they are included in the list or not.
But good quality cars, which are good value for money and have high service levels, may get a boost from their inclusion.
The author is a senior analyst at LMC Automotive and she can be reached at JGu@lmc-auto.com