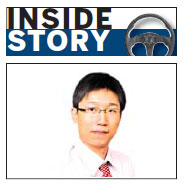 Car manufacturers use caution given faltering first-quarter returns
Every year, the timing of New Year and the Chinese Spring Festival sets the pace for vehicle sales in China for the first two months.
A double-digit fall in January was followed by a strong rebound in February, with sales of light vehicles increasing 28 percent year on year to 1.5 million units.
Car sales edged up 35 percent to 1.1 million units, while sales of pickup trucks and vans rose 12 percent to 445,000 units.
In the first two months combined, however, light vehicle sales were still 4 percent lower than the same period a year ago.
The seasonally adjusted projection of annual sales averaged 18.97 million units based on January and February numbers. That is comparable to the projection of 18.8 million units made in the fourth quarter of 2011 but lower than the projection of 19.2 million units in the first two months of 2011.
There are several reasons behind this slow start.
First, manufacturers are more conservative about the market in 2012.
Automakers are timid compared to a year ago, when they were still riding on the strength of 2010 and anticipating another year of double-digit growth. Even the most aggressive automakers are now taking a wait-and-see approach.
For most Chinese manufacturers, the sales growth target for 2012 is either single digit or remains unclear.
The top two joint ventures, Shanghai GM and Shanghai VW, only expect a 10 percent growth in 2011.
Most carmakers chose to slow output and observe the market for the opening months of the year.
Rising car prices
Second, rising car prices have reduced showroom traffic.
The average transaction price in the passenger vehicle market has continued to increase since January.
There are not as many incentives as there were at the end of last year, and increased backed orders have also pushed up prices and even led to premiums.
Given that the Chinese New Year holidays were earlier than usual this year, the supply to some dealers was affected by capacity, logistics and other problems.
The average transaction prices of SUVs, luxury cars and minicars have all increased by about 4 percent since January.
Rising fuel prices have also affected demand.
Unrest in Iran has caused the global fossil fuel price to surge to a high level for this season.
China raised its retail gas price in February, and it is expected to adjust it again soon. These anxieties over fuel prices have weakened the market.
New policies
Having anticipated a bearish market in automobiles, China has launched a number of new policies to support the automotive industry, which has become one of its pillar industries.
In February, China issued a preliminary list for general-purpose official car purchases for this year. The list contains a total of 412 models, all of which come from Chinese companies.
The key reason for excluding foreign manufacturers is that these manufacturers did not meet the new rule of spending no less than 3 percent of their revenue on research and development in the past two years.
Though the change brings about some external pressure, the Chinese government hopes the new policy can help domestic carmakers get more orders from the official car market, which requires the procurement of more than a million new units.
In the first week of March, the government also released a reduced vehicle and vessel tax rate on passenger vehicles that meet the third-stage fuel consumption limit.
In line with China's efforts to save energy and reduce emissions, the government is going to start implementing new fuel consumption limits starting this year.
To encourage manufacturers to accelerate R&D in emissions-reducing technology, a favorable tax rate will be granted to automotive manufacturers who own key fuel-saving technologies.
We expect these new policies, together with some possible follow-ups, to help improve customer confidence and thus car sales this year.
We have slightly revised our forecast for this year at 19.5 million units, a growth rate of 8 percent year on year, but there is an increasing downward risk.
The author is a senior analyst at LMC Automotive.