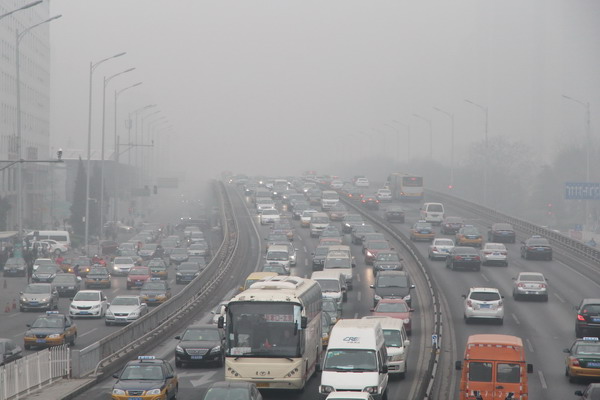 Moter vehicles are seen lining up along the second ring road in Beijing, March 27, 2014. Mobile sources of nitrogen oxide, including cars, ships and trains, are difficult to control due to their strong mobility, and has become a blind spot in curbing air pollution. [Photo by Wang Yueling / Asianewsphoto] 
Nitrogen oxide, more than other major pollutants such as sulfur dioxide or ammonia nitrogent, should be considered as the major culprit for smog, said Wang Yuqing, deputy head of Committee of Population, Resources and Environment of China.
"As much as 80 percent of smog that has been plaguing most of the cities are secondary pollutants, including sulfate and nitrate - fine articles that are really toxic and a threat to human health," he said during a keynote speech at an international consultative conference on NOx emission management and control, which was held on March 29 in Beijing.
The meeting was co-sponsored by International Energy Conservation Environmental Protections Association, or IEEPA, a non-governmental organization dedicated to help push forward China's green transformation.
According to Wang, these pollutants are actually transformed from sulfur dioxide and ammonia nitrogen after undergoing a series of chemical reactions, a process remarkably catalyzed by nitrogen oxide, or NOx.
NOx is one of the key airborne pollutants and main cause of acid rain that comes mainly from coal consumption and emissions of motor vehicles, he added.
Air pollution has increasingly become a major concern among Chinese people, as much of the country was time and again shrouded by the blanket of smog this year and last year, with Beijing and Hebei province bearing the brunt.
Statistics show that nitrogen oxide emissions had been growing at an annual rate of 5 to 8 percent in the past few years, but then dropped slightly as of 2012 when NOx emissions stood at about 23.4 million tons, still 30 percent more than five years earlier.