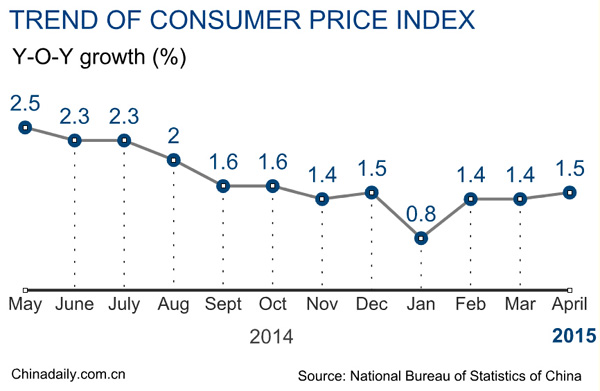 BEIJING - China's consumer price index (CPI), a main gauge of inflation, grew 1.5 percent year on year in April, the National Bureau of Statistics (NBS) announced on Saturday.
The reading slightly rebounded from 1.4 percent in March and 0.8 percent in January, the lowest level in more than five years.
On a monthly basis, consumer prices in April edged down 0.2 percent, narrowing from a 0.5 percent drop recorded in March.
"Due to a relatively low base, food prices rose quickly in April, driving up the year-on-year CPI growth," said NBS senior statistician Yu Qiumei.
China's GDP grew 7.4 percent in 2014, the weakest annual expansion in 24 years. A string of economic indicators for the new year, including manufacturing, consumption and foreign trade, suggested persistent weakness.
China set this year's economic growth target at around 7 percent and its inflation control target at around 3 percent.
China's producer price index (PPI), which measures wholesale inflation, plunged 4.6 percent year on year in April. The April PPI marked the 38th straight month of decline, suggesting continued weak market demand.
Related Story:
Policy flexibility key to sustained growth by Chen Jia from China Daily
As China adjusts its economic structure, there is a risk that the nation's GDP growth will fall below 6.5 percent at times during 2015, a report by the International Monetary Fund has said.
The multilateral lending agency said that China would need to "calibrate" its macroeconomic policies in such a manner that it can effectively manage the economic slowdown and keep GDP growth at around 7 percent-the annual growth target, and give further impetus to reforms that focus on restructuring, the report said.
"The policies need to mitigate the tightening bias, instead of reversing the reform course," said Alfred Schipke, chief representative of the IMF in China.
Inadequate progress in reducing vulnerabilities and advancing reforms remains the key risk in the world's second-largest economy, he said. "It is crucial to find the right balance to contain vulnerabilities, advance reforms and avoid a sharp slowdown."
During the first quarter, GDP growth in China slipped to a seven-year low of 7 percent, down from the 7.3 percent recorded in the fourth quarter of 2014. The growth was in line with the IMF forecast, although the pace slowed a lot in the first three months, it said.