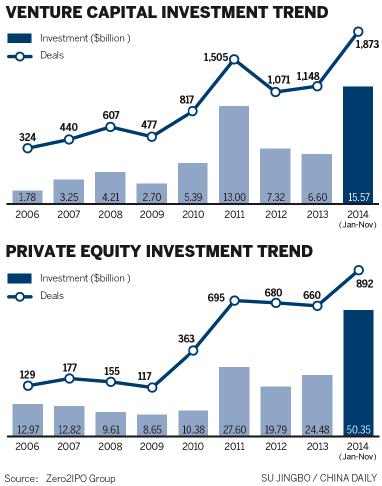 Venture capital and private equity deals made in China reached a record high in the first 11 months of 2014, benefiting from the rising number of startup companies and the restructuring of State-owned enterprises, according to a report.
According to the figures from Zero2IPO Group, 1,873 venture capital deals were made in the first 11 months of this year with investment value of $15.6 billion, a 135.9 percent increase on the full year 2013.
Another 892 private equity deals were made during the same period worth a total of $50.4 billion, a 105.7 percent increase on last year.
"Venture capital investment in China has been active this year because of the improving conditions for raising funds and the rising number of startup companies," said Ni Zhengdong, chairman of Zero2IPO Group.
The study showed that 231 new VC funds were set up in the first 11 months worth $15.4 billion, a 122.6 percent increase in value on last year.
It also showed about 60 percent of the VC deals made during the period were at the startup stage.
"Private equity investment this year reached a record high benefiting from the restructuring of State-owned enterprises and private placement of listed companies," said Ni.
During the Third Plenary Session of the 18th CPC Central Committee held in November last year, the government expressed strong support for "mixed-ownership" reform of the State-owned enterprises.
The Zero2IPO report said the Internet sector was the most popular this year for VC investment, followed by the mobile Internet and healthcare sectors. The Internet sector was also the most active for PE investment in the first 11 months, followed by the real estate and healthcare sectors.
The figures also showed that VC exit routes were various during the period under review: Of the 427 exits in total, 141 were through initial public offering, 124 by merger and acquisition, and 70 through share transferring, with 46 sold to management buyouts, and 20 by backdoor listings.
The report said there were a record 350 PE exit deals completed in the 11 months, benefiting mainly from a resumption in IPOs in the A-share market.
Ni said although the exit numbers both increased this year, the pressure to exit at the right time and with solid returns is still high.
From 2010 to the end of November this year, there were 10,252 VC and PE deals made in China, but the number of IPOs backed with PE and VC funds during the same period was only 628, the report showed.
"Angel investment activities have been very active this year," said Ni.
A total of 547 angel investment deals were signed in the first 11 months in China totaling $341.4 million, a 69.6 percent increase compared with the whole of last year, according to the report.