Weak M&A activity forecast until policy outlook clears
Merger and acquisition activity in China remains subdued as dealmakers adopt a "wait and see" attitude pending clearer policy direction from the government, a semi-annual report by professional service provider PricewaterhouseCoopers finds.
Amid tightening credit conditions and a slowing economy, first-half M&A deals in China declined 5 percent to 2,118, compared with the previous six months. In value terms, deals fell 6 percent to $119.5 billion.
Deal numbers and values were still higher than a year earlier - but below the peaks of recent years.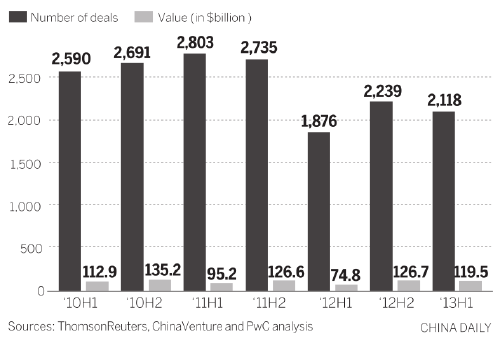 "Strategic buyers have remained cautious, and we did not see a rebound in activity in the second quarter after (China's) leadership changes took effect," said Andrew Li, PwC Central China advisory leader, at a Shanghai news conference.
Domestic strategic M&A remains the largest portion of deals in China, accounting for nearly two-thirds by volume.
With the new policy direction tending "toward de-leveraging and slower growth, both domestic and inbound strategic buyers have been more selective and focused in their investment activities", said Li.
According to the study, foreign inbound strategic deal volumes were also at low levels in the first half. The number, on par with the second half of last year at 136, stood at nearly half the levels recorded in 2010 and 2011.
"Dealmakers are generally adopting a 'wait and see' attitude ... and deals may rebound if the policy picture becomes clearer," Li said.
The third plenary session of the 18th Central Committee of China's ruling Communist Party, which is expected to reveal the roadmap of deepening of reform, will take place in November, much later in the year compared with previous years.
Apart from uncertainty in policy direction and tight liquidity, recent anti-monopoly campaigns by the central government are adding short-term pressure on the dealmaking environment, Li said.