Business opportunities hidden in luxury car-washing industry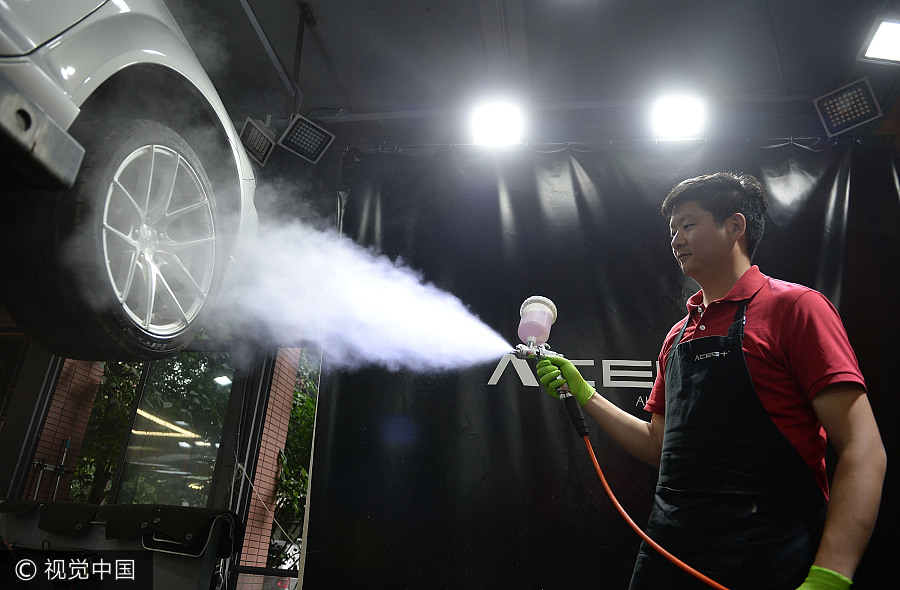 He Hongzhi, owner of a luxury car-washing shop, washes a car in Chengdu, capital of Southwest China's Sichuan province, on June 10, 2017. [Photo by Wang Xiao from Chengdu Business Daily/VCG]
He Hongzhi, a car enthusiast, has found huge business opportunities in the luxury car-washing industry in Chengdu, capital of Southwest China's Sichuan province, Chengdu Business Daily reported on Tuesday.
Nicknamed "Uncle Xiao He", He Hongzhi has washed nearly every brand of luxury car, such as Volkswagen Golf GTI, BMW, Koenigsek, Porsche 918, La Ferrari and Bugatti. The price of cars He has washed ranges from 200,000 yuan ($29,424.68) to 30 million yuan, according to the report.
The most expensive service in He's shop is 8,800 yuan, and the customer has to book it one day in advance. He said he could get four to five of these requests each month.
"The 8,800 yuan car-washing service contains very detailed cleaning of five key parts of a car, including the engine, interior, paint, glass and chassis," said He.
He gave up his previous job with an annual income of 300,000 yuan to open this car-washing shop in Chengdu in 2012. His car-washing shop has become very popular among luxury car lovers, according to the report.