Home / Business / Biz Photos
Lama living on plateau keen on online shopping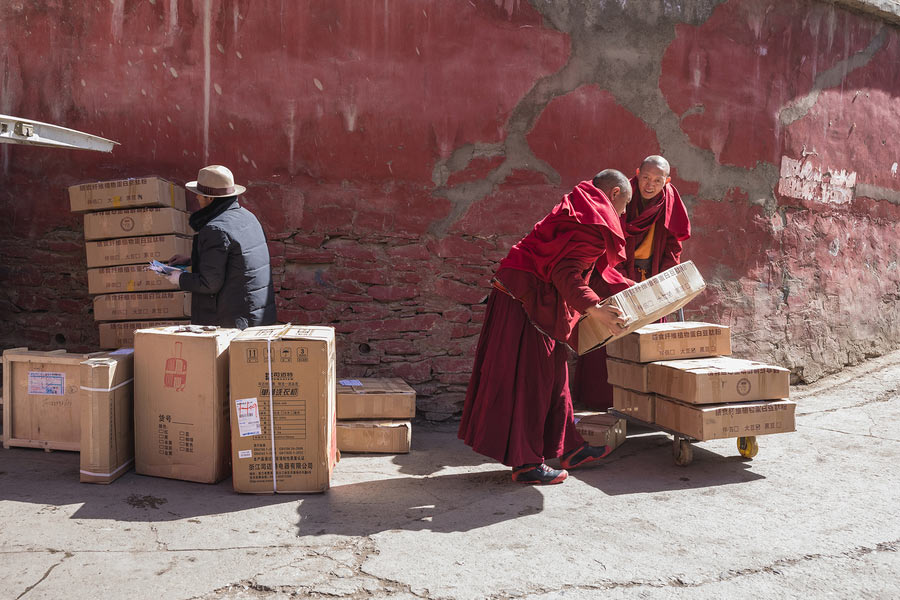 Lamas collect their parcels in Ganzi Tibetan autonomous prefecture, Sichuan province, on Feb 28, 2017. [Photo/VCG]
Yongdan Sangbo, a 23-years-old lama studying at a Buddhist institute in Ganzi Tibetan autonomous prefecture, Sichuan province, is among the pioneers who know how to shop online on the 4,500-meter plateau.
Chanting, debating, and sitting in meditation every day, Sangbo has lived a life as calm as water since he got ordained at the age of six. For him, having access to internet has broadened his life.
There are nearly 20,000 lamas practicing at the Buddhist institute and not everyone can read Chinese characters like Sangbo.
"At first, many Tibetan friends of mine found the online marketplace Taobao very fancy, but they had to ask me to order things for them because they couldn't read Chinese characters," Sangbo said.
This little help makes him know almost every lama in the institute, and his shopping cart on Taobao is full of their wishes such as cooking ingredients, iPhone, and fitness equipment.
Sangbo's favorite is the Warrior, a well-known Chinese shoe brand. "I follow several sellers of Warrior shoes on Taobao. I check their shops every time they put on new arrivals," he said.
Liu, a courier who has served the institute for seven years, said lamas did not know anything about online shopping two years ago, but now it has become a part of their daily lives.
"Every day I need to deliver almost 100 parcels to the institute. It was amazing during the "Double 11" shopping spree last year when I delivered thousands of parcels in a day," Liu said.
However, every winter when a large ceremony is held in the institute, Sangbo has to turn off his phone, cut off the internet and chant without sleeping. It takes six years to finish a long-term course and 13 years to get a degree here.
Many younger lamas of the institute are Sangbo's fans. They like Sangbo because he can "conjure" a mountain bike or treadmill, and most importantly, he often buys candies for them online.