Home / Business / Biz Photos
Repairmen race to get shared bikes back on the streets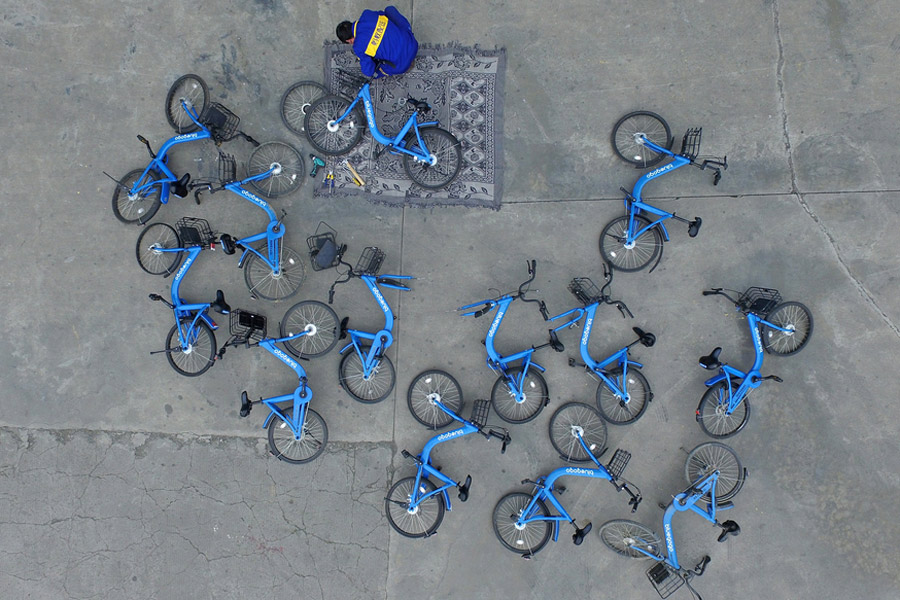 A repairman fixes damaged Bluegogo bikes in a maintenance office in Chengdu, Sichuan province, on March 14, 2017. [Photo/VCG]
While China's bike-sharing market is booming as competitors battle it out, some cities' curbsides are already overloaded with the colorful selection of bicycles, or worse, damaged ones that no one can use.
BigData-Research said shared bicycles served 19 million people in China by the end of last year.
Ofo CEO Dai Wei told Xinhua News Agency this March that the company's 15 million users in 40 cities had completed 200 million rides.
The relatively high usage rate makes a shared bicycle more vulnerable than a private bicycle, not to mention damage caused by vandalism.
Li Zhifu, a repairman working for bike-sharing company Bluegogo in Chengdu, Sichuan province, told Chengdu Business Daily on March 13 that he fixes 60 to 70 shared bicycles every day and the number once rose to more than 100.
His colleague Yu Yiping said the damage, normally divided into physical damage and electronic damage, are usually caused by fair wear and tear or people's bad behavior. Yu has even repaired shared bicycles that have been pulled out of a river, burnt, or had their locks pried open.
"Damage to shared bicycles are inevitable because of the high usage rate, but it is wrong to vandalize them. I hope everyone can make proper use of them and create more convenience for others," Yu said.
BigData-Research said the number of shared bike users is expected to reach 50 million this year. Users' bad behavior is still difficult to regulate at present.