Big three carriers to hang up on roaming charges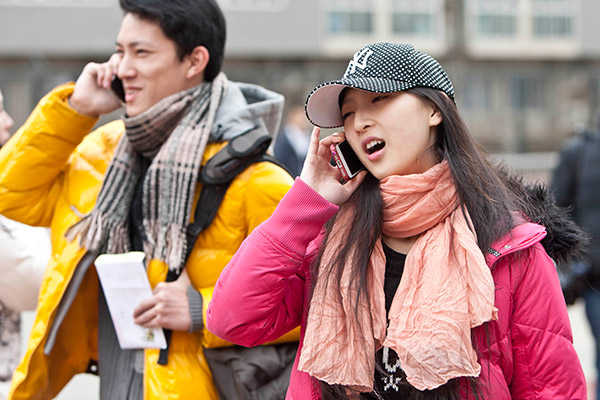 Two applicants for the Beijing Film Academy's school of performing arts make long-distance calls to their relatives about their tests in Beijing on Thursday. [Photo/China Daily]
Major telecom companies to ditch controversial fees from October
The country's three telecom carriers announced on Monday that they will scrap domestic long-distance and roaming charges from October, a move that will push telecom carriers to seek new sources of business growth, including cloud computing and big data.
The three carriers are China Mobile Communications Corp, China United Network Communications Group Co and China Telecommunications Corp.
Li Yue, president of China Mobile, said his company will push forward with the scrapping of domestic long-distance and roaming charges, although such fees account for 8 to 10 percent of its total revenue.
"This move is a challenge for the company," said Li. However, it will also encourage China Mobile to enhance management efficiency and reduce its operating costs.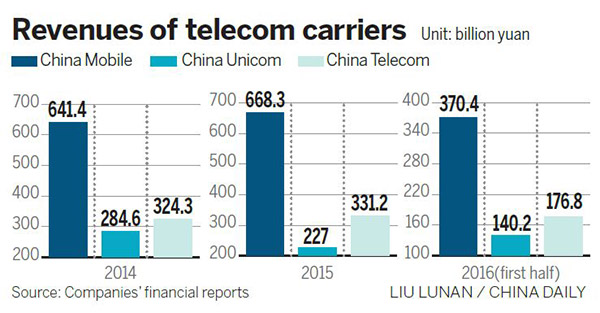 Chinese telecom carriers collect domestic roaming fees when the subscriber leaves their local service area and they range from 0.6 yuan (8 cents) to 0.8 yuan per minute depending on the packages they have signed up to.
Although roaming charges are subject to wide criticism, they remain an important source of revenue for China's three telecom heavyweights, accounting for nearly 10 percent of their net profits.
Premier Li Keqiang announced on Sunday the nullification of the years-long practice of charging long-distance calls and domestic roaming fees, as part of the government's effort to build a stronger internet industry, when delivering the Government Work Report to the annual session of the 12th National People's Congress.
"We have already canceled the domestic long-distance and roaming charges for the new subscribers of China Unicom since Jan 1," said Lu Yimin, general manager of China Unicom.
"We hope to innovate our business model, and upgrade products and services, and develop new businesses, such as cloud computing, big data and the internet of things to make up for the loss and offer better services," Lu added.
"The influence on telecom carriers is limited as they have already put forward various types of 4G packages for subscribers to stimulate data consumption," said Xiang Ligang, a telecom expert and CEO of industry website cctime.com.
Xiang added that the removal of domestic roaming fees will push telecom carriers to improve their products and services, as well as seek new sources of growth and cultivate emerging businesses.
As China implements the Internet Plus strategy, the mobile internet and broadband construction are among the top growth priorities, increasing demand for faster and more cost-effective information networks.