Chinese companies are investing big money in acquiring live broadcasting rights of major sports events.
Although they are putting lot of capital to bag these rights, the companies are banking on earnings from online video advertising to turn in the profits.
According to iResearch Consulting Group, the market of online video advertising is expected to more than double in the next three years to $8.5 billion.
Here are five companies that have recently won exclusive broadcasting rights of global sports events.
1. Alibaba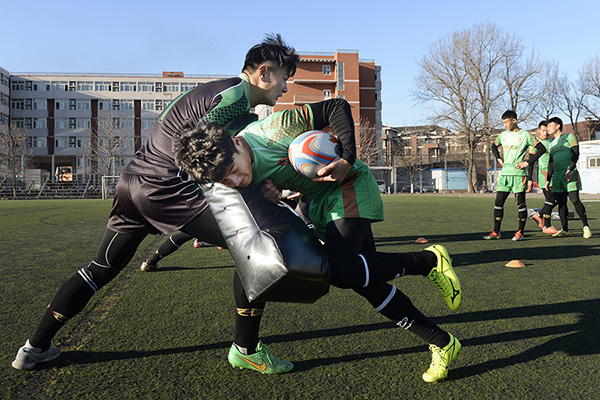 Two university students in Beijing take part in rugby training. [Photo/China Daily]
Alibaba's sports arm Alisports has secured exclusive live streaming rights to rugby matches after signing an agreement with World Rugby, the global governing body of the sport, this month.
According to the deal, Alisports will develop a million rugby players in China in the next 10 years and raise the profile of the sport in the country.