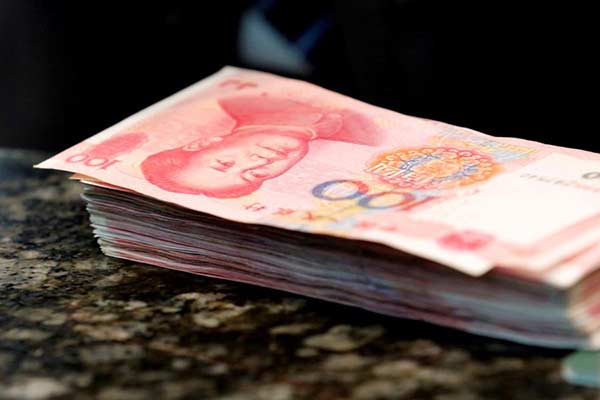 Chinese 100 yuan banknotes are seen on a counter of a branch of a commercial bank in Beijing, March 30, 2016. [Photo/Agencies]
Worries about large-scale capital outflow can be eased and market expectations adjusted
Experts expect the renminbi to remain stable against a basket of currencies as there is no long-term basis for depreciation.
"Despite short-term pressure due to the prospect of higher interest rates in the United States and uncertainties in the global economy, the renminbi does not face continuous depreciation pressure in the long run," said Jiang Chao, an analyst with Shanghai-based Haitong Securities.
Jiang said the impact on the Chinese currency of hikes in US interest rates, which were hinted at last month by Janet Yellen, chair of the Board of Governors of the US Federal Reserve, would not be significant, as investors have digested the news and are aware the pace at which the Fed will raise interest rates will be slow.
Xie Yaxuan, chief economist at China Merchants Securities Co, echoed this view, saying that the weaker dollar had lessened the depreciation pressure on the renminbi since May.
"The economy in the United States has yet to show strong signs of a recovery following the slowdown in the first half of the year," said Xie.
Data showed the US' gross domestic product increased 1.2 percent in the second quarter compared to the expected 2.6 percent growth.
Although other factors such as the United Kingdom's exit from the European Union could still increase the depreciation pressure on the Chinese currency, "it would not last for too long," said Qu Hongbin, chief economist with HSBC Holdings.
"The market has calmed compared to the days around the referendum," said Xie. "And investors have become more accustomed to the renminbi's two-way volatility after the Chinese government adopted a market-oriented exchange rate mechanism."
"As China becomes more integrated into the global market, any out-of-expectation one-way fluctuation is unlikely-the global economic conditions do not support a sharp depreciation of the renminbi, and a one-way depreciation would not favor the country itself," he said, referring to concerns that the People's Bank of China might allow continuous depreciation in order to boost exports.
In the meantime, economists said the renminbi's official inclusion in the International Monetary Fund's Special Drawing Rights this October marks a further step in China's global economic emergence and it will further help stabilize the Chinese currency.
Xie said that as more central banks hold more of the Chinese currency in their foreign exchange reserves, demand for renminbi assets would rise with more capital inflows.
"Less worries over capital outflows would ease market expectations for a continuous depreciation of the renminbi," he added.
Lian Ping, chief economist with Bank of Communications, said that the currency is expected to remain stable as long as the economic fundamentals remain stable in the second half of the year, following pretty good performance last month.