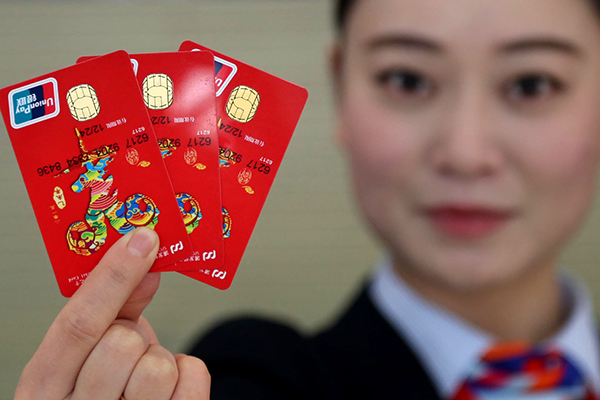 A bank clerk in Huai'an, East China's Jiangsu province, holds up a new type of bank card incorporating an electronic chip, which was introduced last year. [Photo/China Daily]
At a time when technology-driven microfinance services have become a key strategy to achieve financial inclusion, more efforts to improve the financial infrastructure are needed, experts say.
"Providing microfinance services using digital technology is quite effective in promoting financial inclusion when many still have no basic access to financial services," said Yi Gang, vice-governor of China's central bank, the People's Bank of China, at a high-level forum held in Beijing last month.
According to a research by the World Bank, 2 billion working-age adults worldwide, around 38 percent of the global population, have no bank accounts and are excluded from the mainstream financial system.
The fast development of technology-driven financial services in recent years significantly increased the opportunities for people to have access to financial services, according to Yi, but the "lack of oversight and infrastructure in the emerging digital industry has become one of the key challenges blocking financial services from reaching people".
Yi said that the government regulatory bodies need to enhance their supervision of credit issuance by online financial institutions in order to reduce the risks.
Policymakers across regions have raised concerns about the risks associated with online finance providers.
Data from Wangdaizhijia, a third party research institution, shows that by the end of July, a total of 1,879 online financial institutions, 45 percent of the total in China, had been shut down because of various operational problems.
To better address the challenges of technology-driven microfinance services, China will submit a set of principles to be reviewed during the G20 Summit to be held in Hangzhou, capital of East China's Zhejiang province, on Sunday and Monday.
With a total of 66 rules and principles, the top-level design, once approved by the G20 members, will help build a more effective system to support financial inclusion, according to Jim Bromley, chief financial officer with the Bill & Melinda Gates Foundation.
Bromley also said that a clear definition of the digital financial market is needed and it should be made as inviting to new businesses and customers as possible.