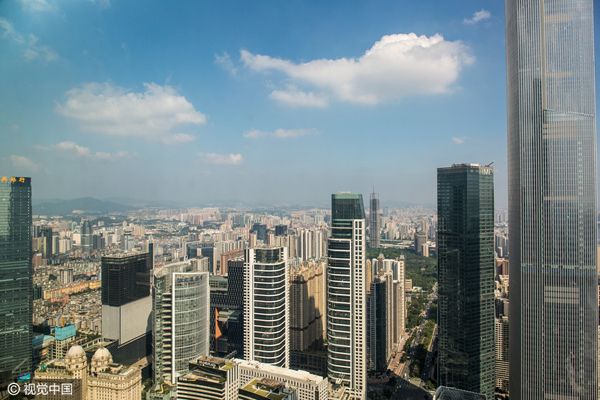 A view of Zhujiang New Town, a major part of Tianhe Central Business District, in Guangzhou, capital of Guangdong province. [Photo/VCG] 
Guangzhou, capital of Guangdong province, is a South China trading center with centuries of history and a bright future.
Despite being beaten in some competitiveness lists by other burgeoning cities, it still attracts the interest of a host of companies.
According to Sina online news, Zung Fu China, one of the country's leading Mercedes-Benz retailers, is moving its headquarters, national operations and management from Shenzhen to Guangzhou Tianhe central business district.
The GDP of Shenzhen's own Nanshan business district increased by 9.3 percent last year, compared with a more than 8.8 percent rise at Tianhe CBD.
However, in the first quarter of this year, Nanshan's GDP growth rate slowed to 8.3 percent while Tianhe CBD recorded growth of 9.1 percent.
Such competition even occurs within the same city, with the Guangdong Free Trade Zone's Nansha New Area in Guangzhou also looking to attract companies with preferential pilot policies.
Jiang Sangeng, executive director of the Central Business District Development Research Base in Beijing, said most CBDs in China were targeting the same clients.
He suggested that each one should attempt to highlight its own unique selling points, such as the level of development of its market economy.
Qiu Weiqing, chairman of Tianhe CBD Administrative Committee, said companies needed little encouragement to set up shop in the district.
"We don't have so many preferential policies, so companies who choose to locate their offices here are mostly attracted by our business and trading environment," he said.
As an example, Qiu mentioned foreign diplomatic ventures, with more than 75 percent of Guangzhou's consulates and chambers of commerce based in the CBD-where the offices are either rented or bought, instead of being assigned by the government.
Guangzhou had planned an area for such organizations in another district, but they chose the CBD of their own accord, Qiu said.
Xiong Yifang, founder of leading drone maker Ehang, said his team had worked in Beijing, Singapore and the US, but finally settled on Guangzhou because of its complete supply chain and "down-to-earth" attitude toward investors.
Many high-tech companies like Ehang have chosen Tianhe CBD.
In January, 13 businesses based in Guangzhou were listed among the top 50 innovative companies in China, evaluated by the Chinese version of Fast Company, an American business magazine. Six of them are located in Tianhe CBD alone, equal to the total number of selected companies in Shenzhen.
Based on such a high level of marketization, Qiu of the Tianhe CBD Administrative Committee said two to three international enterprises would choose to establish their regional headquarters in the district each year.