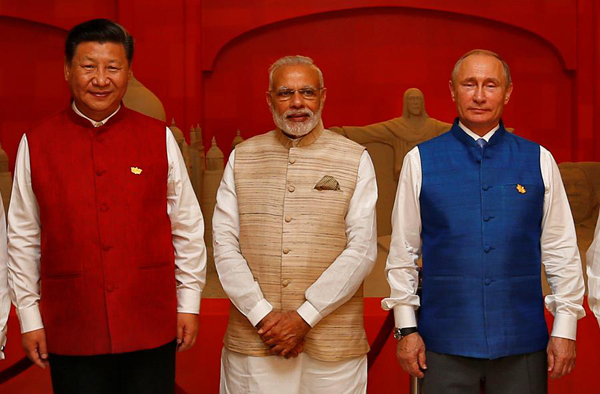 (L-R) Chinese President Xi Jinping, Indian Prime Minister Narendra Modi and Russian President Vladimir Putin pose infront of a sand sculpture ahead of BRICS (Brazil, Russia, India, China and South Africa) Summit in Benaulim, in the western state of Goa, India, October 15, 2016.  [Photo/Agencies]
President Xi Jinping called on the leaders of the BRICS countries to "work together for an open world" and firmly oppose protectionism in all forms, during a speech at the BRICS summit in Goa, India on Sunday.
"Openness holds the key to a country's prosperity," Xi said, adding that the emerging economies should strengthen coordination on macroeconomic policies and facilitate market inter-linkages, financial integration, infrastructure connectivity and people-to-people contacts.
The summit, whose theme was "Building Responsive, Inclusive and Collective Solutions", ran from Saturday to Sunday.
Pointing out that the current momentum of global economic recovery remains fragile, Xi said that "some countries are getting more inward-looking in their policies, protectionism is rising and the forces against globalization are posing an emerging risk".
The Chinese president called on the BRICS countries' leaders to participate in, advance and lead the reform in global governance with a view to achieving a more reasonable and equitable international order, and letting developing countries have a greater say.
"It is imperative that we step up coordination and communication on major international issues and regional hotspots," he said.
Along with Xi, Brazilian President Michel Temer, Russian President Vladimir Putin, Indian Prime Minister Narendra Modi and South African President Jacob Zuma also attended the summit and gave speeches.
China's Foreign Minister Wang Yi said at a news briefing after the summit that Xi's speech was widely applauded by the leaders at the summit.
The Goa declaration issued after the conclusion of the summit also included some of the consensus reached during the Group of 20 (G20) major economies summit held in Hangzhou, China, last month, he said.
The five BRICS leaders also met there last month as China hosted the 11th summit of the G20.
At their meeting on the sidelines of the G20, Xi said that BRICS members should enhance coordination to make emerging-market economies and developing countries play a bigger role in international affairs.
anbaijie@chinadaily.com.cn