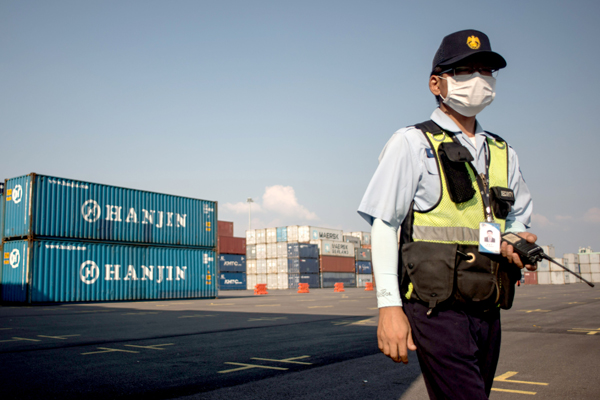 A security guard walks by containers at the Hanjin Incheon Container Terminal in Seoul. China COSCO Shipping Corp said it may consider buying some container-terminal assets of the troubled Hanjin Shipping Co.[Photo/Agencies]
China COSCO Shipping Corp, owner of Asia's biggest container-shipping company, said it could consider buying some container-terminal assets of the troubled Hanjin Shipping Co after agreeing to spend $738 million on a new port in Abu Dhabi.
"We would like to study it if it's put on the table and if there's a willingness to sell on Hanjin's part," Chairman Xu Lirong said in Shanghai on Wednesday. "So far, it's not on the agenda."
Buying Hanjin's terminal assets in the Port of Long Beach California will help COSCO widen its footprint after the Chinese government merged its key shipping companies last year to help them expand internationally.
The Seoul court overseeing the bankruptcy protection of Hanjin said that it was considering a sale of the entire company. Xu said COSCO had no plans to buy the South Korean liner's vessels.
Besides the terminal in California, Hanjin also has two other facilities in South Korea.
China last year merged China Ocean Shipping Group and China Shipping Group to form China COSCO Shipping as part of the government's efforts to shrink industries plagued by overcapacity while creating globally competitive businesses.
The combined company focuses on moving container boxes, commodities and oil and gas through its units.
One such unit, COSCO Shipping Ports, said on Wednesday it entered into a concession agreement for the construction, management and operation of the Khalifa Port Container Terminal 2 in Abu Dhabi. The deal is for 35 years, it said in a filing to the Hong Kong Stock Exchange, with an option to extend it by a further five years.
Bloomberg