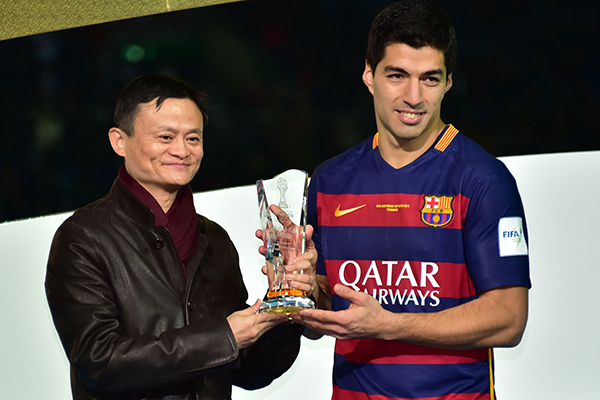 FC Barcelona player Luis Suarez (R) receives the FIFA Club World Cup from Jack Ma (L), chairman of Alibaba Group, China's e-commerce giant, on December 20, 2015. Barcelona beat Yokohama, suburban Tokyo, to clinch the title last year. [Photo/Agencies]
E-commerce giant's sports unit eyes more matches in the country
Alibaba Group Holding Ltd's sports unit said its discussions with FIFA on becoming a top-level sponsor of the World Cup hinges on more Chinese involvement in the world's most-watched sporting event.
Alibaba Sports Group Chief Executive Officer Zhang Dazhong confirmed the talks with FIFA, reported by Bloomberg in May, in an interview in Shanghai on Wednesday. If it makes the multimillion-dollar commitment, Alisports, as the company is known, would become FIFA's second Chinese sponsor after Dalian Wanda Group Co pledged its support in March to the scandal-plagued football governing body until 2030.
"We are discussing with FIFA about the sponsorship issue," Zhang said. "What we hope is that there will be more matches to be held in China and the country can participate more to boost the Chinese football market."
Since President Xi Jinping made soccer success a national priority, Chinese companies and businessmen have made a slew of investments in national and international clubs, and the country has made plain its desire to host the FIFA World Cup. In March, Wanda president Wang Jianlin, China's second-richest man, said that having multiple Chinese sponsors would help China's bid to host the world's most-watched sporting event.
Under FIFA regulations, the earliest China could host the tournament would be 2030. Alibaba is already a sponsor of FIFA's Club World Cup and owns a stake in the Chinese football team Guangzhou Evergrande, which has splashed out on international footballers like Robinho and Jackson Martinez.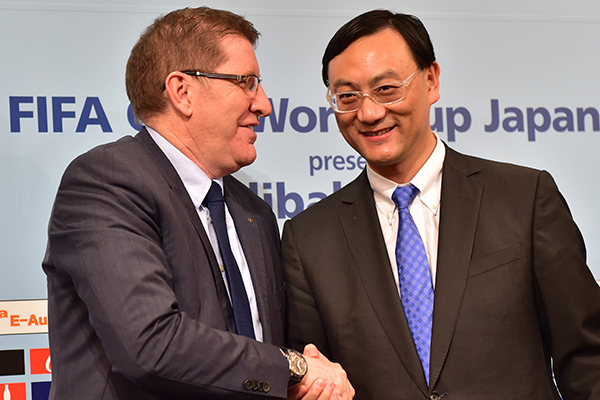 FIFA Marketing Director Thierry Weil (L) shakes hands with Zhang Dazhong after discussing a possible sponsorship deal. [Photo/Agencies]
Alisports was set up last September with Alibaba Group as majority owner alongside Sina Corp and Yunfeng Capital, an investment firm owned by Alibaba chairman Jack Ma who is a believer in the sport's business potential and has said the local scene needs "somebody to help stir up things".
Zhang said that Alisports' edge is its access to the consumption habits of the 500 million registered buyers on Alibaba's e-commerce platforms. Insights from the data have guided its major investments into rugby, for example, he said. While the sport is not very well-known in China, Alibaba's online buying data suggests an accelerating growth pattern, he said.
"Although you don't see it on TV, we can see it in the data," Zhang said. "We can see people buying rugby balls, clothing, equipment, or looking at matches, searching for famous players. We can understand the strength of the trend from the data, and that's our special advantage."
Based on its customer data, the company snapped up the Chinese broadcast rights for the National Football League in China and in April, signed a 10-year deal with World Rugby, the global governing body of the sport, to develop it in China and beyond.
Still, it can be a challenge to develop consumer data analysis into a successful business strategy, said Li Sheng, chief executive officer of SECA World, a rival sports business.
"If you say that everyone is buying this on Taobao and so I'll put money there, it's just the first step," said Li.
"It's a market survey. It doesn't mean it can translate into a revenue stream."
Bloomberg