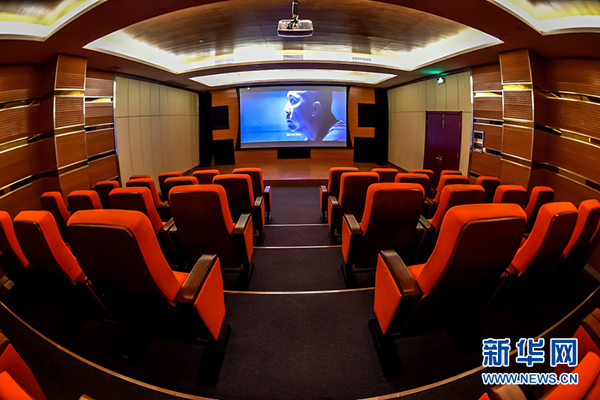 China's box office revenue stood at 4.5 billion yuan (around $680 million) in July, down 18 percent year on year, the first decrease in five years. [Photo/Xinhua]
BEIJING - China's box office revenue stood at 4.5 billion yuan (around $680 million) in July, down 18 percent year on year, the first decrease in five years. Why is it that this summer holiday, traditionally the high season for cinemas, has seen poor box office takings?
As early as in the first quarter of 2016, the market performance was excellent taking record 60 billion yuan this year, and on track to overtake North America in 2017.
Chinese cinemas raked in 6.87 billion yuan in ticket sales in February, with the monthly box office overtaking North America for the first time.
In the bigger picture, China's box office in 2015 reached 44 billion yuan, up 48.7 percent from 2014, according to the film bureau of the State Administration of Press, Publication, Radio, Film and Television.
Though total revenue hit 24.7 billion yuan in the first half of the year, up 22 percent, sales turnover from April to June was only 9.9 billion yuan - a 32-percent decrease from the first quarter this year and 700 million yuan less than the same period last year.
Film companies had high hopes for this summer, yet turnout was disappointing.
The first half of August only saw ticket sales of over 2 billion yuan, down from almost 3.6 billion yuan in the same period last year.
Losing grip on audience
Industry watchers think that Chinese audiences are simply getting more picky in spending their money.
Out of 13 domestic movies released in August, six were romances.
"A single, and at the same time, traditional genre dominating theaters has lost its appeal. Audiences expect something different," said Zhang Yiwu, a literature professor of Peking University.
Moviegoers are bored and have lost interest in over-exploited literary adaptations and youth idol dramas. Though bitterly criticised, idol film "Silent Separation" still easily grossed 900 million yuan in 2015. "Summer's Desire", a film of the same genre that debuted in July this year, only took 8 million in stark contrast.
"Boasting and exaggeration, lack of structural diversity and weak story-telling have ruined some movies with great potential," said Yin Hong, a professor with Tsinghua University and a renowned film critic.
As more and more people are going to cinemas and are presented with numerous works on the screen, moviegoers have matured enough to refuse paying bills for less interesting, or even bad, ones, said Zhang.
Squeezed data buble
"Ticket subsidies" have been central to the China film market since 2014 when online cinema booking became popular.
Ticket sellers have invested heavily in lowering prices to attract more users and encourage more people, especially those from small cities and towns, to go to the cinema.
These subsidies have now been cut, and people appear reluctant to pay higher prices.
"Ticket subsidies were worth nearly 5 billion yuan in 2015, accounting for 10 percent of total revenue," said Wang Changtian, chairman of Enlight Media.
What's more, authorities are closely watching ticket sales as a number of box office frauds came to light earlier this year. In March, the distributor of martial arts movie "Ip Man 3" admitted to having fabricated box office figures. Other distributors were also reported to be buying tickets of their own films in addition to "stealing" box office from other films.
If fraud cannot be ruled out, the quality and reputation of our films will be compromised and ultimately people will not want to watch them, said Shi Chuan, vice president of Shanghai Film Association.
Warning & Chance
The cooling of the film market may be a warning for movie makers and investors, reminding them that only by making high quality films can they expect acclaim and money at the same time.
"In a healthy movie industry, well-made works with good stories rule," said movie critic Zhang Guopei.
Much as these figures come as a warning, they are an opportunity for the industry to make changes, exploring different genres and cultivating talent in post-production and marketing.
Film director Lu Chuan was satisfied last year with his 3D action-thriller "Chronicles of the Ghostly Tribe," in spite of the poor box office, as it was a rare chance for Chinese visual effects artists to learn from their Hollywood counterparts.
In past ten days, China Film Co Ltd and Shanghai Film Co Ltd, the country's two leading state-owned film producers and distributors, went public in Shanghai, a stimulant that may generate a new round of growth in industry.