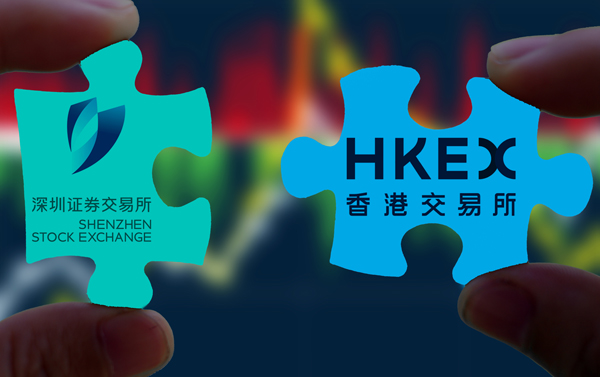 The State Council has given the green light to a long-awaited plan to connect a second mainland stock exchange with Hong Kong's. [Photo/VCG]
Second 'stock connect' further opens mainland market, experts say
The State Council has given the green light to a long-awaited plan to connect a second mainland stock exchange with Hong Kong's, further opening China's capital market.
"Preparation for the Shenzhen-Hong Kong Stock Connect has been completed and the State Council has approved the implementation plan for the program," Premier Li Keqiang said on Tuesday at a State Council executive meeting over which he presided.
The move follows the Shanghai-Hong Kong Stock Connect, adopted in 2014, which Li said has achieved the goals envisioned and earned positive feedback.
The addition of the Shenzhen Stock Exchange is a major step toward opening up the two mainland markets, said financial service experts. The approval also shows the central government's support for Hong Kong's economy, said Liu Jipeng, senior researcher at the China University of Political Science and Law.
China's top securities regulator said in a statement on Tuesday evening that the overall trading quota of 550 billion yuan ($83 billion) will be removed under both the Shanghai and Shenzhen stock trading links with Hong Kong. The daily trading quota will remain, according to the regulator.
Charles Li, chief executive of Hong Kong Exchanges and Clearing Ltd, said at a news conference that the move underscores regulators' confidence over the trading links, and the scrapping of the investment quota will help enlarge transaction volume.
The connection of the three exchanges will help more domestic and international investors use the Hong Kong market and in turn help China's opening up of its whole capital market, said Li Quan, CEO of Guoking (HK) Securities and Futures.
At the State Council meeting, Li said, "Initiating the Shenzhen-Hong Kong Stock Connect, based on the successful pilot program of the Shanghai-Hong Kong connect, marks another steady step toward building a law-regulated capital market with international features and renders positive significance in many areas."
The premier also said the launch of the new connect would help investors to better share the fruits of economic development on the Chinese mainland. In Hong Kong, it will help deepen the financial cooperation between them and consolidate and boost Hong Kong's position as an international financial center, he said.
The new connect is modeled after the Shanghai-Hong Kong connect by which mainland investors could buy Hong Kong stocks, and vice versa.
Trade volume of the Shenzhen Stock Exchange reached 401 billion yuan on Tuesday, making the overall trade volume of the mainland's stock market more than 800 billion yuan.
The connect is expected to be launched before late December, according to Charles Li of Hong Kong Exchange and Clearing. It will benefit Hong Kong's stocks, which are undervalued, compared with those in Shenzhen, said Dennis Huang, senior real estate and financial commentator in Hong Kong.
Cai Xiao contributed to this story.