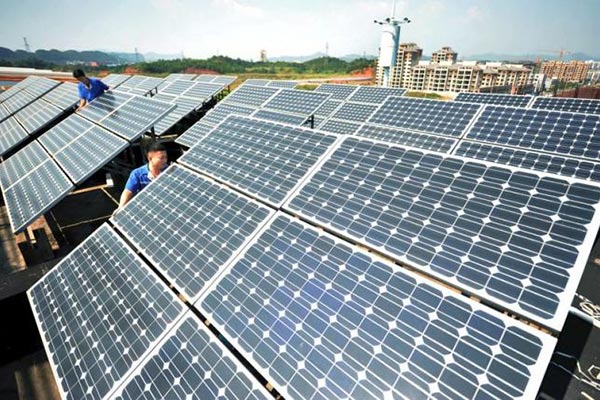 Workers install solar panels on the rooftop of a company in Shangrao, Jiangxi province, October 11, 2015.[Photo/Agencies]
Company aims to develop solar projects both at home and abroad
JinkoSolar Holding Co Ltd, the world's largest solar panel producer by shipments, said it will remain cautious about scaling up or revamping this year, despite a recovering solar market.
"Apparently, there is an increasing demand for solar products domestically, but we are still very prudent about expansion because we have to analyze the market and keep an eye on overcapacity," Qian Jing, a senior vice-president of JinkoSolar, said in an interview with China Daily recently.
The overall solar market is recovering with price and output up slightly this year. The recovery came after a prolonged downturn several years ago as a result of overcapacity and cutthroat price competition.
Qian said the company exported 60 percent of its solar products overseas to Europe, the United States, India, Japan and Southeast Asia, and it also aims to develop its solar power projects both at home and abroad.
"Regarding the overseas power plant development business, emerging markets in Latin America, Africa, and the Middle East are our targets because normally those regions have better sunshine, huge power demand, and high electricity retail price," she said.
JinkoSolar has just won the contract to build and develop a solar power station in Mexico with installed capacity of over 180 megawatts, which is the largest overseas solar power project developed by a Chinese company so far.
Referring to the British vote to leave the European Union, Qian said "Brexit" may not be a "bad thing" for the solar companies, because the Chinese companies may find it easier to enter the British solar market without regulations from the EU, which was imposing anti-dumping tariffs on Chinese solar panels in 2013.
"It is also good for the UK because they can use more cost competitive renewable energy sources, since they have more choice if they are open to Chinese solar products," she said.