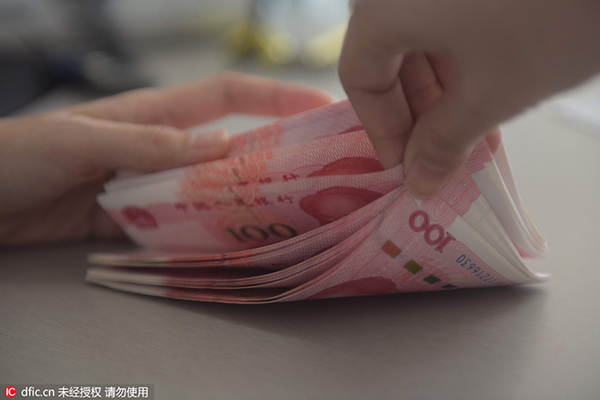 A clerk counts money for a client at an Agricultural Bank of China branch in Hainan province. [Photo/IC]
China's 16 listed banks have cut their dividend payouts for past year amid slowing net profit growth.
According to the National Business Daily, the 16 listed banks plan to return 356.2 billion yuan to shareholders as cash dividends in 2015, a decrease of 8.3 billion yuan from the previous year.
The banks' ability to return money to shareholders have declined. The slowing earning growth, high nonperforming loans and required deposits on the reserve have placed pressure on the banks in regards to capital supplement, said Guo Tianyong, director of the China Banking Research Center at the Central University of Finance and Economics.
The banking industry has been experiencing a low profit growth period and will be for a long time, the National Business Daily reported, citing an expert. He said the banks' yearly profits growth reached 35 to 40 per cent in the past dozen years, but now the growth had slowed to less than 1 per cent, with some banks even recording a loss. Influenced by the current economic situation, and resource relocation in China's financial market, the banking industry is away from the high-speed growth period, the expert added.
Although the banks' dividend to shareholders is shrinking, it still accounted for half of the combined dividends of all public companies in China. The banks' earnings also made up 52 per cent of the total profits reported by these listed companies.
Some of them still give high return to their shareholders, paying out 30 per cent of their net profits. China Merchants Bank is generous; its dividend reached 30.16 per cent of its net profits.
According to the financial data provider Wind Information Co Ltd, listed companies in China's A-share market earned 2.47 trillion yuan in profits last year. Of those listed companies, 2000 plan to pay out 700 billion yuan to their shareholders.