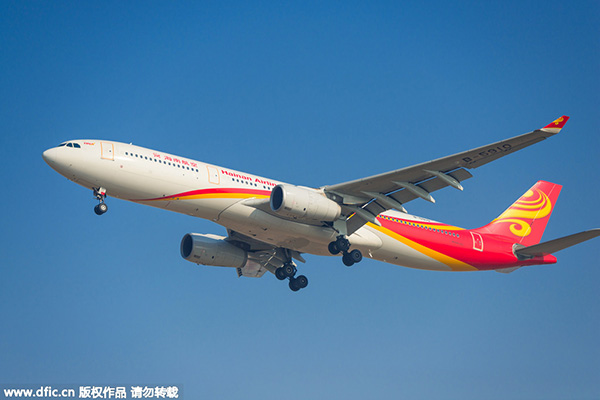 An Airbus A330 jet plane of Hainan Airlines of HNA Group takes off from the Shenzhen Baoan International Airport in Shenzhen city, South China's Guangdong province, December 30, 2014. [Photo/IC]
CANBERRA - Virgin Australia, Australia's second-largest airline, announced on Tuesday a 13 percent share of its company has been sold to Chinese firm HNA Aviation Group, in an attempt to force its way into the growing Chinese travel market.
The deal, initially worth up to $115 million, will include a clause to increase HNA's share in the airline to 19.99 percent over time, and would allow the coordination of timetables, code-sharing agreement and frequent flyer programs with HNA's major airlines including Hainan Airlines and Tianjin Airlines.
The agreement opens the door for Virgin to begin flights to China amid the growing demand on direct travel routes between Australian and Chinese major cities.
Virgin Australia chief executive officer John Borghetti said creating an agreement with HNA was common sense for Virgin, as China was Australia's fastest growing inbound travel market, with the number of Chinese visitors to Australia set to double to two million annually by 2025.
"The alliance will see us leverage the opportunities offered by China as well as the synergies of HNA's comprehensive aviation supply chain," Borghetti said on Tuesday.
"(Virgin Australia will) look to introduce direct flights between Australia and China and co-operate on commercial functions including code-sharing, frequent flyer programs, lounge access and promotion of tourism and business travel."
HNA Aviation flies more than 77 million passengers annually, with more than 700 routes between 200 destinations on offer.
The news comes as Virgin continues to battle with a second straight full-year loss, the airline earlier this month announces a reduction of 5 percent of its domestic capacity in order to keep the airline in the black.
The eventual 20 percent stake in the airline would one day replace the 26 percent stake which Air New Zealand currently holds in the airline, after Air New Zealand announced it would sell down, or exit completely, its stake in the Australian airline.