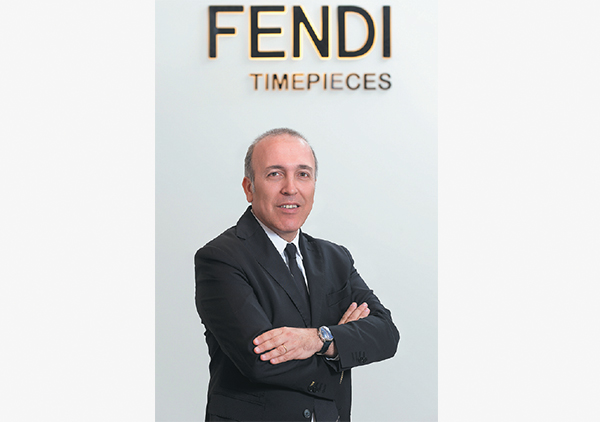 Fendi Timepieces is expected to perform better with the help of the whole brand's strong momentum. [Photo provided to China Daily
Domenico Oliveri, CEO of Italy's Fendi Timepieces, is bullish on future prospects for business in China
Domenico Oliveri, chief executive officer of Fendi Timepieces, a spin-out watch firm of Italian luxury fashion house Fendi SRL, is bullish about the luxury market in China. He believes there is a huge potential for growth as Chinese consumers' spending power is growing.
Despite the global economic slowdown, Oliveri said the company is strengthening its presence in China's watch market and plans to open more stores in second- and third-tier cities across the country.
"The Chinese market is very important for the luxury business and I hope the success of Fendi in China could expand to Fendi Timepieces," said Oliveri.
He added Chinese customers are very mature, conscious of trends and willing to spend money on luxury goods worldwide.
Fendi Timepieces will increase its investment in China and open more stores in second- and third-tier cities or provincial capitals, according to Oliveri.
Founded in 1925 in Rome, LVMH-owned Fendi now covers fur, leather goods, shoes, fragrances, eyewear, timepieces and accessories.
It entered the watch business in 1988. In 2014, it acquired Swiss watchmaker Taramax SA, which has produced the luxury accessory house's watches under license. All of Fendi's watches are manufactured in Switzerland.
Sales of luxury goods in China declined a bit last year to 113 billion yuan (around $17 billion) from 115 billion yuan in 2014, consulting firm Bain & Co said.
The decline was seen in sales of menswear and watches, which were down by 12 percent and 10 percent, respectively.
Despite these tough conditions, Oliveri remains optimistic as he sees a lot of room for further development.
Fendi will return to "super high-end" positioning, with emphasis on handbag accessories and fur in top luxury goods, according to Pietro Beccari, Fendi's chairman and CEO.
Fendi currently boasts 200 stores worldwide, 11 of them in Italy alone. It has launched online sales in Europe, Japan and America and will integrate traditional retail models with online sales.
With the rapid growth of the Chinese economy over the last two decades and its expanding middle class, Swiss luxury watches are gaining popularity in China. At present, China is the third-largest market for the Swiss watch industry.
According to statistics from the Federation of the Swiss Watch Industry, the value of Swiss watch exports to the world dropped 3.3 percent in 2015 to 21.5 billion Swiss francs ($21.6 billion), the worst performance in the past six years.
Oliveri said although sales of Swiss watches declined last year, overall sales of Fendi products in China continued to rise, up 30 percent last year compared with 2014, and Fendi Timepieces is expected to perform better with the help of the whole brand's strong momentum.
"The market is evolving and customers are not any more only interested in products, they want a nice story behind a product, so in this evolution, a story brand with strong heritage will win," Oliveri said.
Born and raised in Italy, Oliveri joined Fendi 14 years ago as operations director to meet the challenge of setting up an efficient and profitable industrial organization for the company.
After receiving degrees in nuclear engineering and business administration, Oliveri worked at many multinational companies. In 1988, he started his career with Procter & Gamble where he held different managerial positions. Five years later, he joined Sara Lee Group. Oliveri was appointed CEO of Fendi Timepieces when the luxury house acquired Taramax SA three years ago.
Having gained rich international working experience over the years, Oliveri said leading a global brand like Fendi Timepieces needs a coherent, consistent strategy.
"Our strategy is to be coherent. Customers travel the world and will find a coherent collection and a coherent message. The world today is more linked than what we think, so being coherent everywhere in the world is the right strategy."
Oliveri said people have to balance the ups and downs in different parts of the world when managing a global brand, and being global is the best way to overcome temporary tough situations.
"My management philosophy is, 'surprise always': propose something new that could surprise all customers," Oliveri said.
"The watch business in China still has great room for improvement and this year is very important for Fendi Timepieces," said Oliveri. Asia and the Middle East have become two largest consumer markets for Fendi Timepieces.
It has advantages in the watch market as its prices are more competitive than other luxury watchmakers such as Patek Philippe SA, Vacheron Constantin SA, Rolex SA and Cartier SA. Oliveri said ordinary people who like Fendi watches could also afford them.
CLOSE-UP
Domenico Oliveri
CEO of Fendi Timepieces Born and raised in Italy
Career:
1988-1992: Project Manager, Procter& Gamble Italia
1993-2002: Operations Director, Sara Lee Branded Apparel
2002-2013: Operations Director of Fendi
2013-to present: CEO of Fendi Timepieces
Education:
1981-1986: Bachelor's degree in engineering, Università degli Studi di Palermo (the University of Palermo)
1986-1987: Master's degree in business management, Istituto Superiore per Imprenditori e Dirigenti di Azienda (ISIDA)