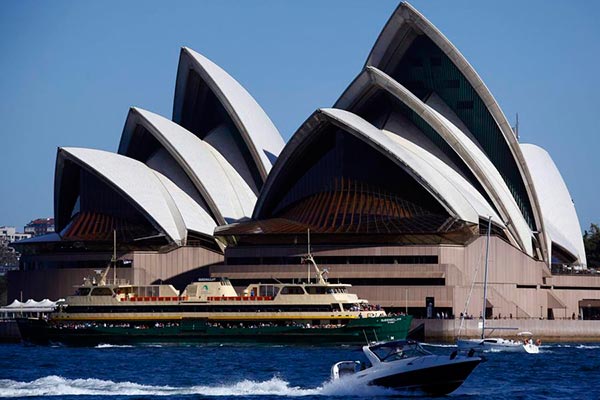 A ferry and recreational boats pass in front of the Sydney Opera House September 28, 2014. [Photo/Agencies]
CANBERRA - Chinese investors have taken advantage of the weakened Australian dollar after a report found Chinese investment in Australia rose by 33 percent in 2015.
The Demystifying Chinese Investment in Australia report, released by KPMG on Monday, said that Chinese investment grew to more than $11.1 billion in 2015, up 32.9 percent on the previous year in terms of the US dollar (or up 59.5 percent in terms of Australian dollars).
Real estate and property continues to be the leading area of investment for Chinese buyers, with 45 percent of total investment falling in this category, while renewable energy (20 percent), material investment in the healthcare sector (17 percent), mining (9 percent), infrastructure (3 percent), gas and oil (3 percent) and agribusiness (3 percent) were all prominent.
The state of New South Wales remains the Chinese investor's state of choice, accounting for almost 50 percent of all investment in Australia, while Chinese money poured into the Northern Territory for the first time in 2015. More than 90 percent of total real estate investment also occurred in New South Wales.
According to the KPMG report, Australia is the second most favored country for Chinese investment, behind only the United States ($118 billion in 2015).
The report also showed that while investment in agriculture was small, the China-Australia Free Trade Agreement (ChAFTA), as well as pending deals for agribusiness firms such as S Kidman and Co, had paved the way for a leap in this year's figures.
KPMG co-author of the study Doug Ferguson said Chinese investment would only continue to increase on the back of government initiatives such as the Australia Week in China (AWIC) expo being held this week, and the innovation revolution announced by Prime Minister Malcolm Turnbull last year.
"ChAFTA has helped to cement the strong relationship between our two countries, and our national Innovation Agenda is challenging Australia to commercialize fintech, medtech, agtech and cleantech products and services that can help China address its national objectives," Ferguson said.
"This augurs well for continued trade with China, and continued investment by Chinese enterprise in Australia."