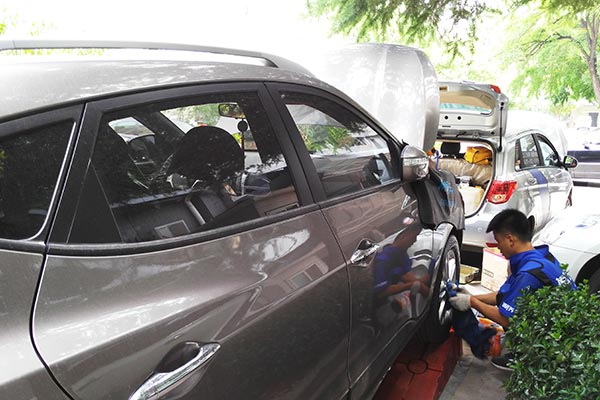 An employee from Bopai, once China's largest online provider of auto maintenance services, cleans wheels for a customer in Beijing last July.[Provided to China Daily]

Insiders say door-to-door auto services will work if there is online and offline integration
China's largest online provider of auto maintenance services collapsed on April 5, one day after the Qingming Festival that is traditionally dedicated to mourning and reflection.
Once valued at about $600 million, Bopai said goodbye to its users in a formal statement on its WeChat account, although there have been rumors that it went bankrupt late last year.
The 2-year old company at its peak had more than 1,400 mechanics, a fleet of over 400 cars to offer services in 22 cities and a monthly payroll of 6 million yuan ($927,600).
Its demise was typical of many dotcom companies that imploded more than a decade ago: It burned through money to increase its fame, with some reports claiming the company lost about 100 yuan per order it received. It also could not find subsequent investors after it spent nearly 200 million yuan of investment money from US-listed JD.com, one of China's most popular e-marketplaces, and Innovation Works, established by ex-Google China chief Lee Kai-fu.
Liu Qiangdong, founder of JD.com, expressed skepticism of Bopai's business model after it went belly up, according to the Beijing Evening News.
"From the very beginning, I could not figure out the advantage of door-to-door service: three mechanics drive around to serve two or three car owners a day while roadside workshops work on twenty or thirty cars a day."
Many people would probably disagree. There are around 160 million cars in China, with another 20 million-plus pouring in every year, so it follows that car owners have vigorous demand for after-sales services. A push of an app on a mobile phone is understandably appealing to car owners in a country where almost half of its 1.3 billion people are Internet users.
Wu Weiqiang, founder and CEO of Chenvxu, an online provider of auto maintenance services that celebrated its first anniversary on April 1, said the door-to-door service is "definitely profitable" as roadside workshops and 4S dealerships are not providing services that meet car owners' expectations.
"It is not about price, it is not about distance-the services will attract car owners," Wu said.
He said his company offered services to nearly 100,000 customers across seven cities in the past year. It is expected to begin making a profit this year.
Zhou Xin, analyst at IResearch Consulting Group, agreed with Wu and said customers value quality services and spare parts more than getting a bargain.
"Many customers are not sensitive to prices. A service that is 100 yuan cheaper won't make them switch from the shops they regularly visit."
'Financial crocodiles'
Wu said the major causes behind Bopai's failure were its rapid expansion and its "abduction" by venture capitalists.
"Burning money alone is not wrong. But if you take it as the sole mode of business, you are going against the law of business.
"Financial crocodiles don't care about your short-term profits. They want to create a miracle and reap more in the financial market."
Yasn Data estimated that the value of the auto maintenance market may jump 13 percent this year to 967.5 billion yuan.
In the past two years, more than a dozen companies in the after-sales market have come and gone.
Zhou urged those in the sector to adjust their pace of growth and focus more on customer services.
Gao Feng, CEO of car maintenance service provider Ebaoyang.com, said door-to-door services will see a larger share but he added that the service should not be limited to simply "door-to-door".
"If we dare to tear off the 'door-to-door' tag and gradually integrate online and offline services, then we will have a more vigorous business model."
Wu's Chenvxu is planning to launch a brand, Wanka, which features both online appointments and offline chain stores.
"In this market you should go step by step. Both capital and volume are important, but they are never the only thing that you should focus on," said Wu.