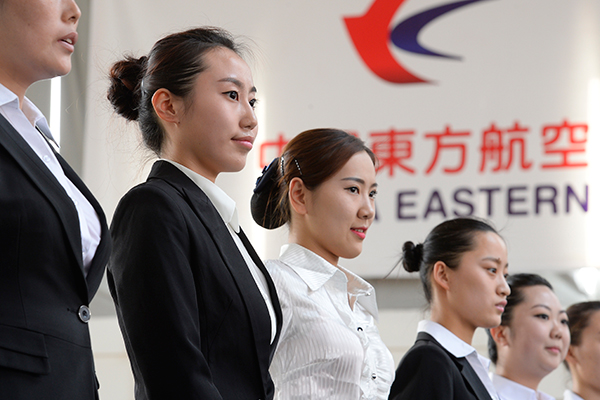 Women at a job interview for flight attendants of China Eastern Airlines at an airport in Taiyuan, Shanxi province. [Photo provided to China Daily]
Nation's major carriers expect their net profits to increase by 70 percent due to low oil prices
China's major airlines look set to reap the benefits of a policy not to hedge in the oil market, when they report results over the next week.
Many airlines across the world are suffering financially, despite the falling prices of aviation oil, after being locked into fuel purchases at prices above the current market value.
But the three largest will announce their annual finance reports over the next seven days, and now expect net profits to grow at least 70 percent on 2014 as a result of the low prices.
China Southern Airlines Co Ltd, the largest carrier in Asia in terms of fleet, has forecast net profit to rise to 1.773 billion yuan ($272.3 million), a 110-130 percent rise.
Air China Ltd is forecasting net profit of 3.782 billion yuan for 2015, a growth of 60-80 percent from the previous year.
"The slump in fuel prices cut the company's operational costs compared with the previous year," it said in a statement.
Hong Kong's Cathay Pacific Airways, on the other hand, is expected to announce that despite overall 90.48 percent year-on-year net profit growth, it was thumped to the tune of HK$8.475 billion ($1.09 billion) from hedging, 8.3 times higher than in 2014.
"Mainland airlines did not suffer such losses, as they have not adopted oil price hedging in recent years," said Geoffrey Cheng, head of transportation and industrial research at BOCOM International Holdings Ltd.
However, added Han Yichao, an analyst from Changjiang Securities Co, their profit is still likely to be down overall, and with oil prices already rising slowly, costs are likely to increase this year.
Their performance is currently being affected by other factors, such as slowing domestic demand and a depreciating yuan, as most companies carry heavy dollar debt.
Recent statistics from the Civil Aviation Administration of China showed that the country's overall air passenger traffic increased 11 percent to 440 million trips in 2015.
Chinese airlines have, said Han, worked hard to cut their dollar debts to reduce losses.