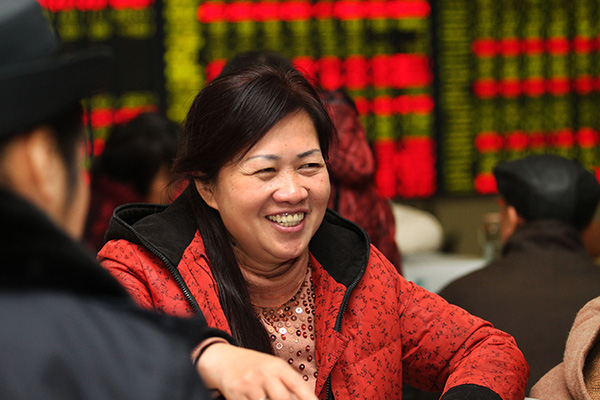 A woman investor at a securities office in Nantong, Jiangsu province. Chinese small investors are confident after the central government's recent announcement of financial policies for this year. [Photo provided to China Daily]
Supportive policies, NEEQ recast raise hopes, but investors' fears still remain
Expectation that reforms in May will help improve the efficiency of the National Equities Exchange and Quotations, better known as the New Third Board, will likely boost its financing activities, market-people said.
The NEEQ is China's share trading system for small firms and startups. Amid the economic slowdown, one of the concerns rattling stock markets this year, the NEEQ has been one of the main financing channels for China's cash-strapped startups.
But it has been facing issues of low turnover and inadequate liquidity. As of March 3, the NEEQ's total financing was 26.47 billion yuan ($4.1 billion).
So, come May, the NEEQ board will adopt a new policy to divide the existing market into two segments-the innovative market and the basic market-the Chinese securities regulator announced on March 4.
The division will be based on financial indicators and shareholding structure of nearly 6,000 listed companies on the board, and will ensure relevant regulations apply to listed companies.
It will also meet different financing needs of companies and reduce the cost of information collection for investors, analysts said.
"The division will accelerate the expansion of the market," said Dong Dengxin, a finance researcher at the Wuhan University of Science and Technology.
There are other glad tidings for the markets.
Analysts believe Premier Li Keqiang's latest government work report, envisaging supportive policies, will continue to boost sentiment towards the Chinese capital market.
For, the feared hard landing of the Chinese economy appears much less likely now, said Geoff Lewis, senior Asia strategist at Manulife Asset Management, in a note to investors.
The benchmark Shanghai Composite Index has been moving sideways around the level of 2900 points, having declined 20.6 percent this year on concerns over volatility in the renminbi and the slowdown.
"China's capital outflows are manageable and may be close to peaking, though a temporary return to capital controls may be required, especially on money flows by wealthy individuals," Lewis said.
The soaring stocks of producers of coal, steel and commodities corrected substantially last week on stimulus policies announced at the ongoing sessions of lawmakers and political advisors.
But fears remain the structural reform to reduce industrial overcapacity will likely hurt the earnings prospects of resources- and energy-related companies.
Li Lifeng, a strategist at Sinolink Securities, said the Chinese stock market continues to be plagued by weak momentum. So, the benchmark Shanghai index will likely continue to move sideways in the range of 2,500 to 3,000 points.