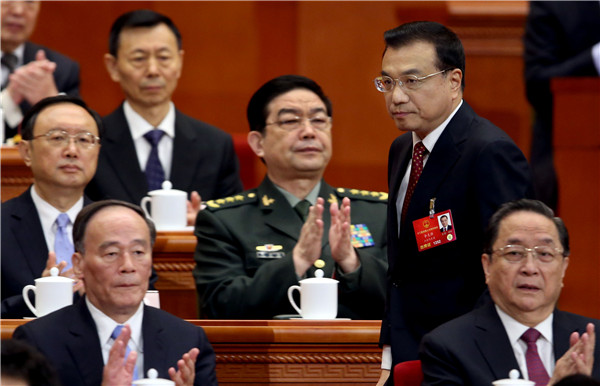 Premier Li Keqiang takes the stage to deliver the Government Work Report at the opening session of the annual National People's Congress in the Great Hall of the People in Beijing on Saturday. Wu Zhiyi / China Daily
Premier pledges reformand unveils support measures as he delivers Government Work Report
Premier Li Keqiang said on Saturday that China is confident of achieving a GDP growth rate of between 6.5 and 7 percent this year.
While delivering the Government Work Report to the top legislature, Li said that the country has enough resources and policy tools to achieve the growth rate, despite difficulties in the global market.
Last year, China recorded a GDP growth of 6.9 percent, the slowest in a quarter century.
The premier indicated that the growth target will be achieved without raising taxes from any groups of enterprises or individuals.
Massive State-led projects in public infrastructure and in relocating workers from the closure of old, polluting factories will be facilitated through government deficit financing and participation by private investors.
A raft of reform policies will be carried out, Li promised, to make the supply more effective in meeting demand, and to diversify financial risks.
In a research note, Bloomberg's Tom Orlik and Fielding Chen said China's 2016 GDP growth target is "still ambitious" and "testing but achievable".
"In order to hit it, and offset the shortterm drag from industrial restructuring, monetary and fiscal policy support will both be expanded," the economists said.
Li said the country still has new instruments for macro regulation and a good reserve of policies at its disposal.
The premier announced a draft goal of running a fiscal deficit equivalent to 3 percent of GDP, up from last year's 2.3 percent, and proposed to raise the growth of M2 - a broad measure ofmoney supply that covers cash in circulation and all deposits - to 13 percent, one percentage point higher than last year's figure.
"The moderate increase in government deficit is projected primarily to cover tax and fee reductions for enterprises, to further reduce their burdens," Li said.
Li Daokui, a political adviser, saidthat raising the government deficit-projected to be 2.18 trillion yuan ($335 billion) for 2016 - is a "prudent and rationalmove".
"As China's economic transformationis a difficult process, it needs to havemore fuel added like a vehicle," he said.
In addition to proactive fiscal policy, the premier said the country would ramp up supply-side structural reform to drive sustained growth.
This will include efforts to streamline administration, transformthe functions of the government and improve its performance, and ensure that innovation-driven development holds sway.
The country will create 10 million new jobs, address socalled zombie companies through mergers, bankruptcies and debt deals, and hold the urban registered unemployment rate below 4.5 percent this year, he said.
State-owned enterprises beleaguered by inefficiencies and overcapacity will be restructured, with some reorganized, merged or forced to exit themarket, he said.
The premier also promised to open oil and telecomindustries to private competitors in sweeping industrial reforms, and to speed up urbanization.
"We will significantly relax restrictions on entry into markets such as electricity, telecom, transportation, petroleum, naturalgas ... and encourage private companies to increase investment in these areas and to participate in the reform of State firms," he said.
Private competitors will be afforded the same treatment that State-owned enterprises are entitled to in terms of project approval, financing and land availability.
The premier also announced a raft of growth-supportive measures, including investment in infrastructure.
The country will invest 1.65 trillion yuan on road construction and 800 billion yuan on newrailways, according to the Government Work Report.
Huang Shouhong, deputy director of the State Council Research Office who participated in drafting the Government Work Report, said he believed the issue of laidoff workers following the overcapacity cuts would not be so pressing as some analysts have feared.
"Development of the service industry can provide far more jobs than development of other industries,"Huang said.
Li Xiang contributed to this story.