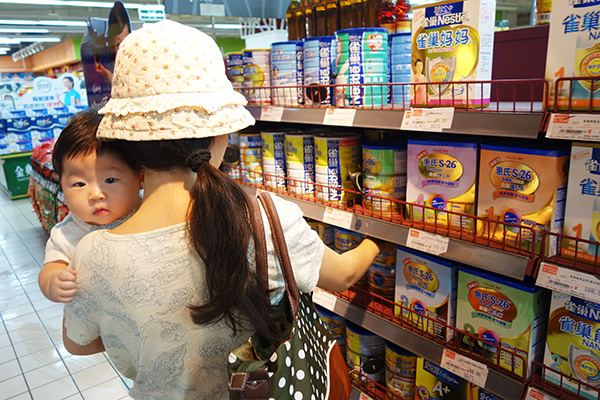 A woman with a baby selects imported infant formula in a Beijing supermarket. [Photo/China Daily]
MELBOURNE -- The Australian government has approved the sale of the nation's biggest dairy farming company to Chinese billionaire Lu Xianfeng.
Van Diemen's Land (VDL) - which boasts several dairy farms in Tasmania's north, known for having the world's cleanest air and water - officially changed hands late Tuesday, with the deal getting the all clear from the Australia's Treasurer Scott Morrison.
In line with all foreign asset sales, the $200 million deal has been subjected to a review by Australia's Foreign Investment Review Board, which found agreement met its "national interest" criteria.
Following the announcement, Senator Eric Abetz said the decision showed Tasmania was "open for business" and the conditions imposed by Treasurer Morrison would safeguard the industry for years to come.
"This approval will see an additional 95 jobs in Tasmania as well as a significant investment in VDL of more than ($72 million)," Senator Abetz said in a statement on Wednesday.
"With Free Trade Agreements with Japan, (South) Korea and China, combined with the government's shipping reform package, Tasmania has the potential to be opened up to new world markets which could dramatically grow the number of jobs in Tasmania."
Originally, VDL had agreed to sell its 13 farms - with a combined area of 19,000-hectares and 18,000 milking cows - to Australian company, Tasfoods, for $180 million. But the New Plymouth District Council, the group's New Zealand-based owner, went back on the deal after receiving a better offer from Lu's Chinese company, Moon Lake Investments.
Given VDL has never been Australian owned despite operating out of Tasmania since 1825, many politicians have been lobbying to have the asset acquired by a local company.
However, Abetz has labeled some of reasons against the deal as "bizarre" and bordering on "xenophobic".
The finalization of the sale has also been praised by the Tasmanian Farmers and Grazers Association (TFGA).
"Moon Lake Investments' continued investment in the sector will further reinforce the importance of the dairy industry, and agribusiness in general, to the Tasmanian economy," TFGA chief executive Skillern said on Tuesday.
As part of the deal, Moon Lake Investments must comply with Australian taxation law, including disclosing any transactions with non-Australian residents, or face the prospect of hefty fines and potentially divestment of the asset.