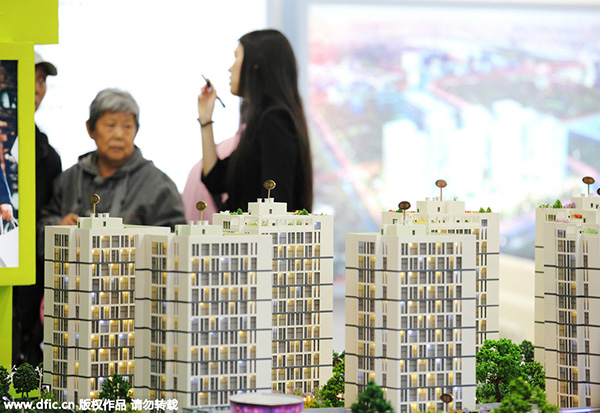 A sales woman introduces an overseas property program to visitors at a spring real estate exhibition held in Beijing, April 17, 2015. [Photo/IC]
BEIJING - China announced it would lower the minimum deposit for home purchases in most cities to spur the real estate market on Tuesday.
The People's Bank of China (PBOC), the central bank, said that in cities where there was no home purchase restrictions, down payments for first homes financed by loans from commercial banks will stay at a minimum of 25 percent "in principle," but they can go down as much as 5 percentage points.
For those who want to buy a second home with commercial loans but have outstanding loans on their first property, the down payment requirement will be cut to no less than 30 percent from the current 40 percent.
The PBOC said that local governments of those cities can decide on the exact deposit requirement "according to their own conditions," under the guidance of the PBOC and the China Banking Regulatory Commission.
The move, the second adjustment in four months, is intended to "support reasonable consumption of housing" and promote the stable and healthy development of the market, the central bank and the banking regulator said in a joint statement.
In September, the minimum down payment for first home buyers was lowered to 25 percent from the previous 30 percent in cities that did not have restrictions on purchases.
The new policy came as the latest effort from the government to reduce property inventory and revive the sluggish market.
Related story: China 2015 property investment slows, by Xinhua
BEIJING - The annual growth of China's property investment continued to cool to 1 percent in 2015, a sharp decrease from the 10.5-percent growth in 2014, official data showed on Tuesday.
The yearly reading was down from 1.3-percent growth for the first 11 months and 2-percent growth for the Jan.-Oct. period, the National Bureau of Statistics (NBS) said.
The figure is part of the economic data released by the NBS on Tuesday which showed annual growth of the world's second largest economy slowed to 6.8 percent in the fourth quarter of 2015 and 6.9 percent for the whole year.
Investment in residential housing, which accounts for about two-thirds of the total property investment, edged up 0.4 percent from a year earlier, compared with a growth of 0.7 percent in the first 11 months.
New housing construction dropped 14 percent year on year in the year, with new residential housing construction declining 14.6 percent.
Slowing property investment, which used to be a main driver of the Chinese economy, has been seen as a drag on overall economic growth.