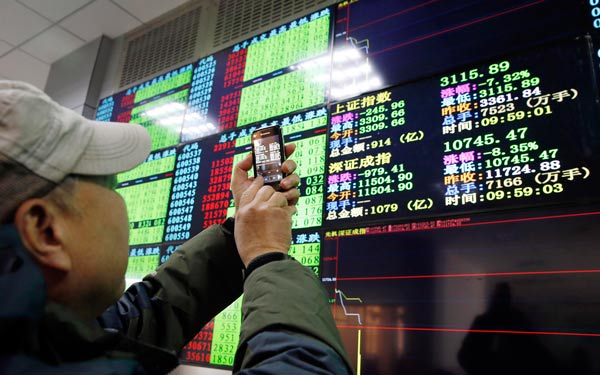 A man takes a photo of the trading screen at a securities brokerage in Shanghai on Thursday. [Photo/China Daily]
Analysts say current regulations are too conservative, and call for increased flexibility with higher threshold
The stock market fallout on Thursday has sparked criticism about the newly introduced circuit breaker mechanism with some investors and analysts calling for further improvements.
Fund managers are urging the capital market regulator to revise the circuit breaker rules which they feel are too conservative and could aggravate the liquidity crisis in the market, according to Chinese media report.
Less than 30 minutes after the market opened on Thursday, the CSI 300 Index, which tracked some of the largest stocks in the Shanghai and Shenzhen bourses, plunged by 7 percent, after resuming from a 15-minute trading halt in the morning trading session.
The 7 percent threshold of the circuit breaker resulted in the shutdown of entire market trading for the remainder of the day.
Analysts expect the regulator to revise the circuit breaker rules in the coming months by raising the threshold for the market suspension or shortening the time period for a halt.
"Ideally, what happened last summer suggests that less, rather than more, trading restrictions are needed to better protect market liquidity and avoid stampedes in a market dominated by retail investor sentiment," HSBC's head of China equity strategy Steven Sun said in a research note.
According to the current rules, trading of stocks, index futures and options will be suspended for 15 minutes when the CSI 300 Index fluctuates by 5 percent.
Trading will be halted for the remainder of the day when the index moves by 5 percent after 2:45 pm or 7 percent at any time during the trading session.
The circuit breaker threshold was considered too narrow by many analysts given that a 10 percent daily trading limit is imposed on individual stocks in the A-share market. The US stock market has three thresholds-7, 13 and 20 percent.
Sun Jianbo, an analyst at China Galaxy Securities Co, said that the circuit breaker mechanism would help magnify investors' anxiety and create the "herd effect" as investors rushed to liquidate their positions.
"There is a high possibility of 42 percent for the market to trigger the 7 percent threshold after it breaches the 5 percent limit," he said.
Some analysts said that the current mechanism offered little help to contain market volatilities given that the A-share market's extremely high turnover velocity of approximately 500 percent in 2015.