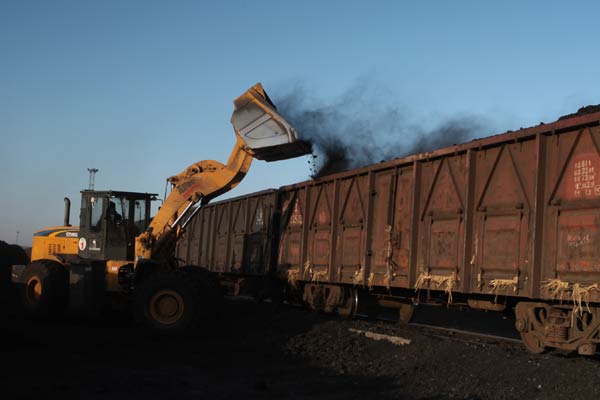 Coal is loaded for railway transportation in Tongliao, Inner Mongolia autonomous region. [Photo/Xinhua]
China is suspending the approval of any new coal mines for three years to eliminate stockpiles and increase new-energy consumption, according to a report in Economic Information Daily on Wednesday.
Nur Bekri, director of the National Energy Administration, was quoted as telling a conference on Tuesday that with production overcapacity expected to last for quite some time, green and low-carbon forms of energy will be the main focus of the 13th Five Year Plan (2016-20).
Bekri said the administration also plans to shut down 60 million tons worth of outdated production capacity next year.
During the same time period, he said, more effort will be put into coastal nuclear power plants with new installed wind power capacity expected to reach more than 20 million kilowatts and that for solar power to 15 million kW.
Bekri highlighted that different regions need different energy strategies. Western regions, for instance, must increase local energy consumption while high consumption industries in eastern and central areas of the country should gradually reduce lower reliance on transported energy sources.
At the same time, the widespread practice of not using installed wind and solar power sources, due to difficulties in integrating resources to the national power grid, needs to be addressed, he said.
National coal consumption has been slowing since 2012 after years of rapid growth, and last year saw its first fall in more than a decade. Coal-fired power plants account for around half of the country's coal consumption.
It grew by an average 9.8 percent between 2002 and 2013, when it peaked at 2.05 billion metric tons, before dropping to 1.95 billion tons in 2014.
Current figures suggest some 30 percent of installed wind power capacity in northern regions of China remains unused, and the amount of solar power not being fed into the national grid is also growing.
Wu Jiang, an economics professor at Renmin University of China in Beijing, said coal will still remain China's dominant energy "for a very long time", as not every region has an overcapacity of coal because of widely different energy structures.
"The problem with new-energy consumption is that it's not easy to integrate it into the conventional power grid.
For that reason, a lot of wind and solar energy capacity has been suspended.
"The central government has run some regional pilot programs to experiment such integration. Clean-energy consumption will be a lot higher if such technologies could be replicated elsewhere," Wu said.