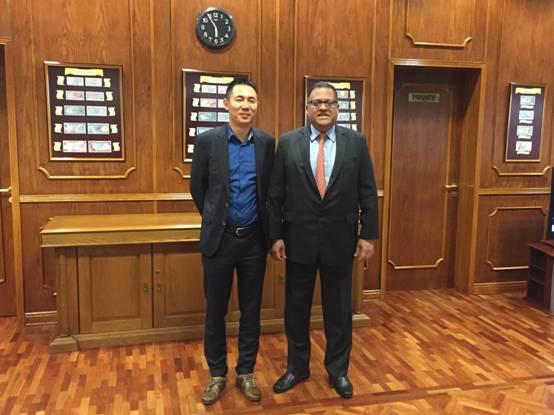 Luo Feng, IZP group chairman (left) met with Arjuna Mahendran, head of the Central Bank of Sri Lanka (right). [Photo/chinadaily.com.cn]
Luo Feng, IZP group chairman, met with Arjuna Mahendran, head of the Central Bank of Sri Lanka on Sept 25 after giving a speech on "Big data + dock" at the Colombo International Maritime Conference the day before. Luo and Mahendran reached consensus on developing a China-Sri Lanka cross-border settlement system.
As a very important connection point for South–South cooperation, Sri Lanka is the gateway for China to the least developed countries in South Asia and Africa. Also, Sri Lanka plays an important role in the global maritime system. China has the biggest trade volume in the world, and is Sri Lanka's second biggest importer and biggest investor. There's strategic significance to strengthening the economic and trade cooperation between China and Sri Lanka.
Luo said that Sri Lanka is an important waterway hub in the Indian Ocean. The country has Colombo port and other natural deepwater harbors with well-developed operations, and is thus a vital maritime trade portal for China to reach South Asia and Africa which are home to two billion people. Sri Lanka has the potential of becoming a trade and financial center as the Belt and Road strategy and South-South cooperation are carried out step by step. IZP will use its cross-border payment service to work with the Central Bank of Sri Lanka to develop a settlement service platform, which will offer convenient financial services for bilateral trades.
Arjuna Mahendran said that the existing China-Sri Lanka financial system, with the US dollar as an intermediate, incurs great payment costs and exchange risks. Sri Lanka hopes to develop a rupee-yuan cross-border settlement system to bring down those costs and the trade threshold for middle and small-sized enterprises thus upgrading bilateral trade.
As the South-South cooperation aid fund is being set up, China will strive to increase investment to 12 billion yuan in developing countries by 2030. Sri Lanka is not only an important point along the Belt and Road, but also the only shipping route for China to reach South Asia and Africa. In the long run, China can work with Sri Lanka to strengthen South-South cooperation and to work together with the Shanghai Cooperation Organization and the BRICS. Therefore, cooperation between IZP and Sri Lanka's Central Bank is of great strategic significance.
IZP's cross-border payment service GlobeBill offers financial services to middle and small-sized enterprises. To date, GlobeBill has reached 104 countries and regions and is China's biggest cross-border payment platform. The company aims to reduce cross-border settlement and payment costs, realize direct exchanges with the yuan, speed up the process of returned money, and improve the convenience of cross-border trade for Chinese enterprises.
GlobeBill begun its global deployment in 2013 and now has reached Central Asia (including Kyrghyzstan), the Middle East (including Saudi Arabia and the UAE), Europe (including Belgium and the Republic of Lithuania), and Africa (Angola). The settlement service in Sri Lanka will speed up GlobeBill's global development and better serve traders on both sides.