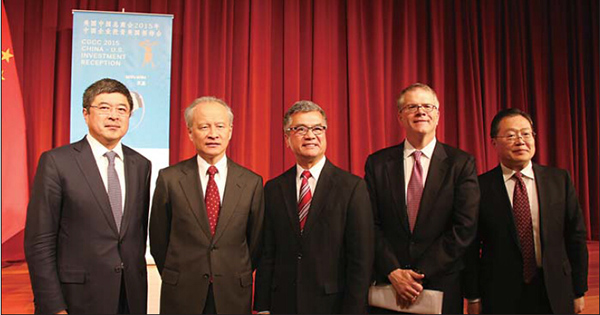 Government and business leaders at CGCC 2015 China-US Investment Forum at the Chinese Embassy in the United States on March 23. (From left) The third and fourth Chairman of CGCC, President of China Construction America Yuan Ning; Chinese Ambassador to the United States Cui Tiankai; Former US ambassador to China Gary Locke; US Deputy Secretary of Commerce Bruce Andrews; and Chairman of CGCC, President & CEO of Bank of China-USA Chen Xu. [Photo provided to China Daily]
CGCC aims for more economic co-op between China and the US
The United States has always been an attractive market for foreign businesses.
With the solid and robust diplomatic relationship between China and the US, as well as the growing economic impact of China, we have witnessed increasing business interactions between the two nations.
This growth is not only reflected in international trade, but also in capital investments.
Traditionally, China-US economic relations were largely based on trade. Even today, it still plays a crucial role. According to the US International Trade Administration, in 2014, China imported $124 billion of merchandise from the US, and exported $467 billion. China has become the US' second-largest trading partner in the world.
In addition to trade, Chinese foreign direct investment to the US has also gained momentum.
Chinese foreign direct investment to the US reached $46 billion in 2014, and has created more than 80,000 jobs. Last year alone, China increased its investment to the US by 25 percent, to $5.2 billion, which was almost twice of the investment amount from US to China.
Creating a more open and friendly business environment to foster bilateral investment has become the new focal point.
We are pleased to see that both governments have already reached agreements on a series of fundamental and important issues, such as prioritizing negotiations on bilateral investment treaties, initiating public-private partnerships, enhancing cooperation on education and research and committing to joint efforts on climate change.
To better facilitate such efforts, the China General Chamber of Commerce-USA's mission is to promote bilateral investment, enhance communication and develop local communities.
We believe that Chinese President Xi Jinping's first state visit to the US will further consolidate and expedite our process. CGCC will take this opportunity to better serve our member's interests and continue to promote bilateral investment.
The core value of CGCC has three important components: interaction, information and integration.
CGCC strives to provide members with the most necessary and up-to-date information through various platforms. We believe that the most efficient form of information-sharing occurs through direct conversations.
We put strong efforts to spread knowledge and information not only through in-person interactions, but also through various offsite platforms.