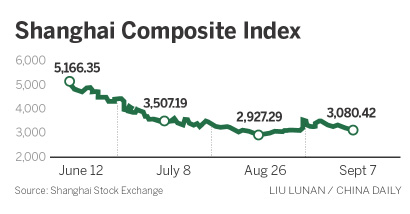 Mainland bourses are contemplating the introduction of a circuit-breaker mechanism to arrest abnormal price swings on capital markets, even as government reassurances did little to check the slide in equities on Monday.
Under the plan, which has been circulated for public opinion, stocks and financial futures exchanges will use circuit-breakers to halt trading in the event of "abnormal" fluctuations.
Circuit-breakers will be triggered off if the market fluctuates 5 percent and 7 percent, according to the plan released by the Shanghai Stock Exchange, Shenzhen Stock Exchange and China Financial Futures Exchange.
The circuit-breaker mechanism refers to measures adopted by stock exchanges to temporarily halt trading to avert panic selling after the stock index has fallen a certain percentage.
Meanwhile regulators are grappling to control price swings in a stock market that's lost $5 trillion in value since its June peak. The China Securities Regulatory Commission said in a statement on Sunday that it would continue to take action to stabilize the market when abnormal volatility poses systemic risks.
In the past two weeks, regulators moved to limit trading of stock-index futures by lowering the bar for what it called "abnormal trading" and increasing margin requirements and settlement fees.
On Monday, equities extended their losses even as policymakers and the regulator sought to reassure investors by vowing to bolster supervision and hinting at more market reforms.
The benchmark Shanghai Composite Index initially jumped by as much as 1.8 percent during early morning trade but it ended down by 2.52 percent, or 79.75 points, to close at 3,080.42, extending the index loss to 40 percent since its peak in mid-June.
The financial sector including banking, securities and insurance stocks led the decline. Share prices of the State-owned Bank of Communications Co tumbled by the 10 percent trading limit.
Monday's sell-offs came after the policymakers and regulator sent out positive messages over the weekend to calm and prop up the market, which resumed trading after the close for the national holiday of the 70th anniversary of victory in World War II.