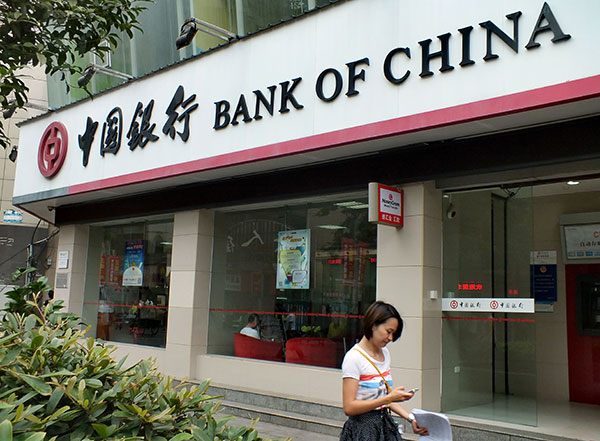 A pedestrian walks past a branch of the Bank of China Ltd in Yichang, Hubei province. As companies face more operating difficulties, rising NPLs and NPL ratios at banks are likely to continue.[Liu Junfeng / China Daily]
Asset quality of commercial lenders also a concern as outstanding NPLs surge to $39b
A rapid growth in bad loans and the deteriorating quality of assets have raised analysts' concerns for commercial banks in the second half of the year.
Outstanding nonperforming loans increased by 249.3 billion yuan ($39 billion) in the first half of this year, said the China Banking Regulatory Commission, practically on a par with the growth of 250.5 billion yuan in outstanding NPLs recorded during the whole of 2014.
The growth in special-mention loans also hit a record high during the first six months, increasing by 551.5 billion yuan, or 58 basis points from the beginning of this year. By June 30, outstanding NPLs reached 1.09 trillion yuan, while the NPL ratio rose to 1.5 percent, up 11 bps from the end of March, according to the CBRC.
Chairman Shang Fulin told a recent meeting of the CBRC that as companies face more operating difficulties, rising NPLs and NPL ratios at banks are likely to continue.
He called the containment of NPLs a "primary task" for the CBRC, to prevent and defuse current risks.
Lian Ping, chief economist at Bank of Communications Co Ltd, said the asset quality of commercial banks was directly affected by the worsening domestic business conditions.
During the first six months, the average profit of industrial enterprises-those whose primary business incomes exceed 20 million yuan-fell 0.7 percent year-on-year.
"The growth in nonperforming loans to small and micro enterprises will still dominate the asset quality of commercial banks, which will continue to increase their investment in small businesses.
"Such efforts will improve the business conditions of small and micro companies in the medium to long term and fundamentally lower their NPL ratios," Lian said.
He said as commodity prices continue falling sharply, resource-based enterprises will face bigger challenges over the rest of the year, which may spark further growth in bad assets.
He also warned of growing exposure to risk, as more bank capital was injected into the markets through various channels in the first half of this year.
"Bankers and regulators should pay adequate attention to the safety of commercial bank assets related to the stock market in the second half of this year, although high volatility in the stock market from June to July did not cause a substantial impact on asset quality," Lian said.
He forecast that the NPL ratio for this year may increase to between 1.6 percent and 1.8 percent, adding that the growth momentum of NPLs will continue but can still be controlled.
Zhou Jingtong, senior economist with Bank of China Ltd's Institute of International Finance, said although China still faces further increases in bad loans, the average NPL ratio of Chinese commercial banks is relatively low compared with their international counterparts.
"Government moves to stabilize the economy, including fiscal and monetary policies, have taken effect gradually and will help to relieve the pressure of deterioration in banks' asset quality," Zhou said.