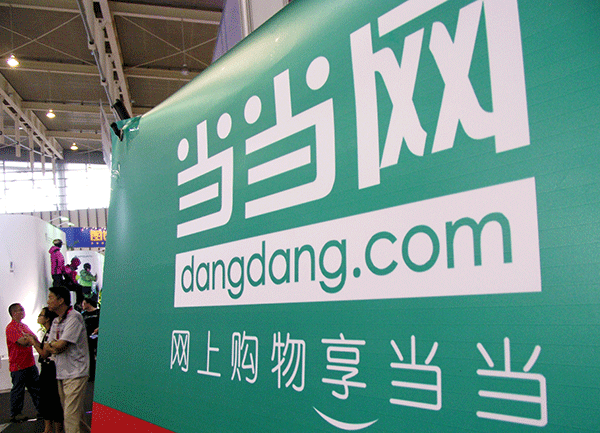 A booth of China Dangdang Inc at an e-commerce expo in Nanjing, Jiangsu province. The company is the latest among a string of US-listed Chinese firms that are either mulling or preparing to go back to the domestic equity market through privatization. [Photo/China Daily]
Dangdang, YY get buyout offers from company officials
As China's stock market rises from the turmoil, Chinese video streaming website operator YY Inc and online retailer E-Commerce China Dangdang Inc announced that they have received buyout proposals, adding to a record number of United States-listed Chinese firms going private.
On Thursday, YY's Chairman Lei Jun and Chief Executive David Li offered to take the company private in a deal valuing it at about $3.69 billion, while on the same day Dangdang's Chief Executive Officer Li Guoqing and Chairwoman Peggy Yu Yu offered $7.812 in cash per American depositary share for the e-commerce firm.
The two companies are the latest among the string of US-listed Chinese firms that are either mulling or preparing to go back to the domestic equity market through privatization.
Statistics from Bloomberg in late June showed that buyout proposals received by US-listed Chinese companies have totaled more than $23 billion so far as more than 20 firms received offers to go private, the most in any single year in the past 12 years.
"The two stocks (YY and Dangdang) got hammered over the past several sessions, so I think management believes the price is low and can use the opportunity to offer a private proposal," Summit Research analyst Henry Guo told Reuters.
Dangdang and YY have fallen 36.1 percent and 21.6 percent respectively, since markets closed on June 25. The offer for Dangdang is at 20 percent premium to its closing price on Wednesday.
Though not all privatization moves are followed by a new listing, analysts said that many tech executives at US-listed Chinese firms are betting on higher valuations back home after the markets turn robust again.
Stocks in China surged for a second day on Friday, after regulators intensified their efforts to shore up the country's falling market.
The Shanghai Composite Index closed at 3,877.80 points, up 4.5 percent, after jumping as much as 6.7 percent, while the Shenzhen Component Index advanced by 4.6 percent to 12,038.15 points.
About 1,300 stocks surged by the daily limit of 10 percent, led by brokerages, consumer staples, port and aerospace sectors.
"Getting privatization proposals usually mean that these firms will soon start their delisting process. The main motive behind the trend is that they are not satisfied with their prospects in the US equity market, especially when they think they can get much higher valuations in the domestic equity market," said Hou Xiaotian, chief analyst at T. H. Capital LLC, a research and investment advisory firm.
Shenzhen-listed Baofeng Technology Co, the first tech company that delisted from the US and relisted in China's A-share market, saw its share prices jump from 7.14 yuan-the initial public offering price in March-to 307.56 yuan by Friday.
Hou said that the lack of tech and Internet related stocks are the main reason for the surge in Baofeng Technology's share price. "However, as more and more tech and Internet-related companies list in China's stock market, it is a sure thing that not every tech company can make a fortune in China's home stock market," she said.
Hou said the process of delisting shares from overseas bourses could take as much as two years. "It is important for these companies to maintain the best shape they can. After all, investors go after good companies that are real money spinners," she said.