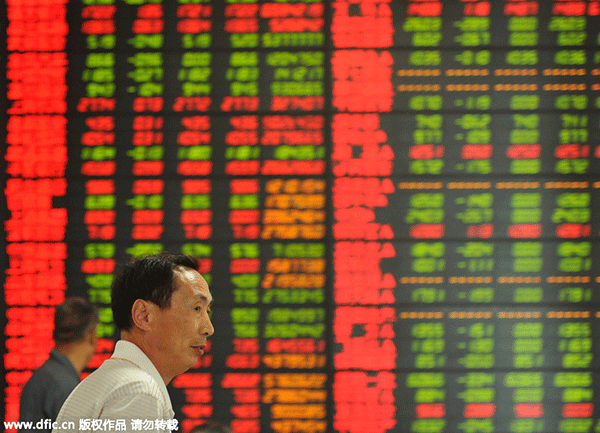 An investor at a brokerage house in Fuyang city, East China's Anhui province, July 6, 2015. [Photo/IC]
Stock markets moved in differing directions after China's regulators intensified efforts over the weekend to shore them up.
The benchmark Shanghai Composite Index closed at 3,775.91, up 2.4 percent, after erasing a gain of as much as 7.8 percent at the opening, while the Shenzhen Component Index retreated 1.4 percent to close at 12,075.77.
Nearly 900 stocks tumbled, led by the Internet, software and satellite development sectors.
Blue-chips led the gains on the Shanghai bourse, as Agricultural Bank, China Life Insurance and China National Petroleum Corp surged by the daily limit of 10 percent, after the country's 21 major brokerages announced they would spend 120 billion yuan ($19.62 billion) or 15 percent of total net assets, on blue chip Exchange Traded Funds.
Earlier, the Shanghai index surged as much as 7.8 percent to 3,975.21 at the opening in response to measures launched by regulators to restore faith among investors.
The State Council ordered the suspension of new public offerings over the weekend to unleash liquidity locked up in share subscriptions, while brokerages and executives from 25 mutual funds vowed to buy stocks.
The Shanghai index plunged 29 percent from its June 12 peak as of Friday's close, while the Shenzhen Component Index slumped 33 percent.
The China Securities Regulatory Commission announced on Sunday that the central bank would offer liquidity support to China Securities Finance Corporation, a State-owned facilitating margin loan service among brokerages
China Vanke, the country's largest residential developer, approved a plan to buy back as much as 10 billion yuan of its A shares, before they jumped 8.6 percent on Monday.
The move came amid similar decisions among board members, executives and controlling shareholders of more than 20 listed Chinese firms.
Nine Shanghai-listed companies, including environmental protection firm Beijing GeoEnviron Engineering & Technology and 14 listed on the tech-heavy Shenzhen Stock Exchange made the announcement over the weekend, according to Xinhua, to support share prices.