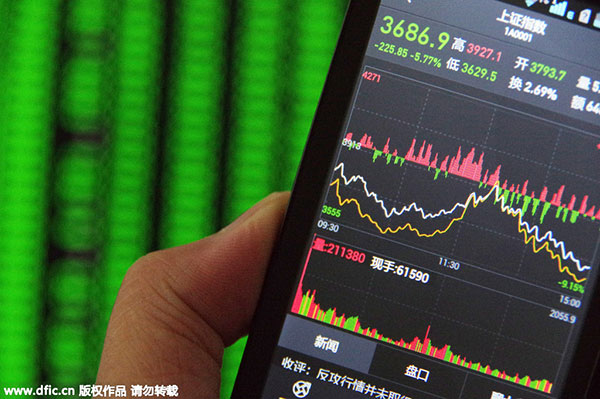 A Chinese investor watches the stock trend on the cell phone at a stock brokerage house, July 3, 2015.[Photo/IC]
BEIJING/SHANGHAI - China froze share offers and set up a market-stabilization fund on Saturday, the Wall Street Journal said, as Beijing intensified efforts to pull stock markets out of a nose-drive that is threatening the world's second-largest economy.
Beijing's reported suspension of initial public offers (IPOs) came a few hours after extraordinary announcements by major brokers and fund managers, which collectively pledged to invest at least $19 billion of their own money into stocks.
China's government, regulators and financial institutions are now waging a concerted campaign to prop up the nation's two main share markets, amid fears that a meltdown would rock the financial system and inflict heavy losses across an economy where annual growth is already running at a 24-year low.
Almost $3 trillion in market value - more than the entire economic output of Brazil - has been wiped out since markets went into reverse last month.
The main Shanghai Composite Index has lost around 30 percent of its value in three weeks, a dramatic end to an equally breathtaking rally that saw it more than double in just seven months.
The sell-off is especially worrying because the bull market had been built on a mountain of speculative loans. Some analysts suggest total margin lending, both formal and informal, could add up to around 4 trillion won ($3.6 billion).
The stock markets are dominated by retail investors.
China's top brokerages said on Saturday they would collectively buy at least 120 billion yuan ($19.3 billion) of shares - a pledge that, according to the Wall Street Journal, would form part of Beijing's new stabilisation fund.
Separately on Saturday, 25 Chinese mutual funds announced they too would put their own capital into stocks.
The fund managers did not give a figure but said they would invest into their own funds, alongside their customers.