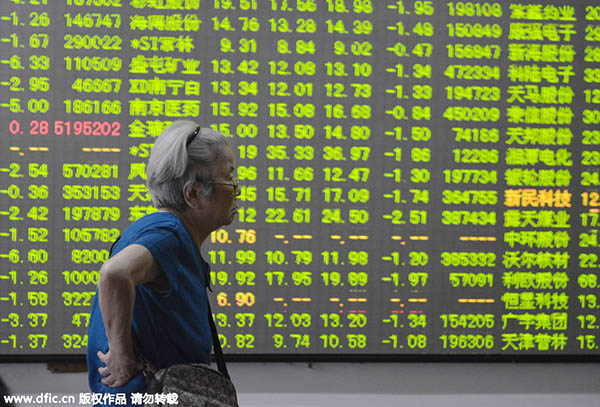 A Chinese investor walks past a display showing prices of shares at a stock brokerage house in Hangzhou city, East China's Zhejiang province, July 1, 2015.[Photo/IC]
BEIJING - China's two major stock exchanges will lower transaction fees by around 30 percent after a continued slump in the country's stock market.
Fees have been cut to 0.0487 permillage from 0.0696 permillage of the transaction volume for A-share trading, with 20 percent of the charges transferred to an investor protection fund, according to a joint statement of Shanghai and Shenzhen bourses.
In addition, China Securities Depository and Clearing Company has announced that it will cut transfer fees to 0.02 permillage of transaction volume from 0.3 permillage and 0.0255 permillage for Shanghai and Shenzhen exchanges respectively.
The cuts will take effect on August 1, the statement said.
The moves are in reponse to a plunging stock market, which turned into a serious stampede on Wednesday after a two-week long losing streak.
The benchmark Shanghai Composite Index sunk 5.23 percent to finish at 4,053.70 points.
The slump came despite government easing measures. The central bank announced cuts to interest rates and the reserve requirement ratio on Saturday. An official draft guideline on Monday gave pension funds the nod to invest in the stock market.