Govt may announce more policy measures to help stimulate economic growth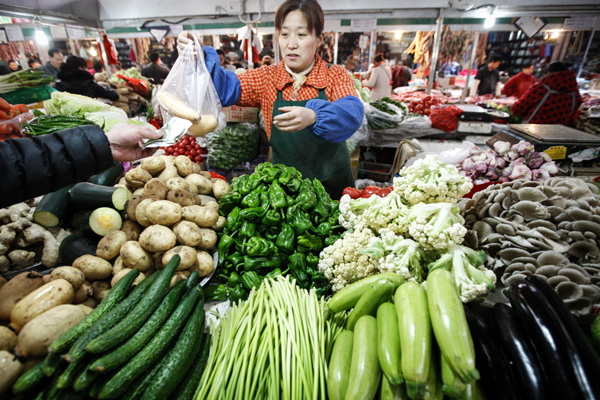 A vegetable market in Huaibei, Anhui province. Inflation in the first three months moderated to 1.2 percent in China, the lowest since the fourth quarter of 2009. [Photo/China Daily]
Consumer inflation moderated to 1.2 percent in China during the first three months of the year, the lowest reading since the fourth quarter of 2009, indicating further room for policy easing amid sluggish economic activities.
The first quarter's close-to-deflation reading, on the back of weak domestic and overseas demand, is likely to be further proved by the expected below-7 percent GDP growth and other major indicators the government plans to release on April 15.
In March, the year-on-year Consumer Price Index, a main gauge of inflation, remained unchanged from the level in February at 1.4 percent, much better than market expectations. The index dropped to a five-year low of 0.8 percent in January, according to the National Bureau of Statistics.
On a month-over-month basis, however, the CPI declined by 0.5 percentage point from February. Food prices weakened significantly after the Chinese Lunar New Year holidays, down 4.5 percent from the level in February.
Non-food inflation remained at 0.9 percent year-on-year, supported by increases in the onshore regulated gasoline prices.
"There continues to be a disinflationary tendency in the Chinese economy, although it is not obviously detectable in the headline figure, as a rather large part of the basket is given to food and energy that accounted for about 34 percent," said Qu Hongbin, chief economist in China at HSBC Holdings Plc.
The Producer Price Index continued to drop in March, at a rate of 4.6 percent year-on-year, but showed a narrowed contraction compared with the 4.8 percent decline in February.
The less than negative sequential PPI reflects changes in the international oil prices and potentially the effects of domestic policy loosening, economists said.
Besides the oil and natural gas industries that have seen a relatively large upward adjustment in prices, other industrial sectors may see worsening inflationary trajectories, according to Qu.
People's Bank of China Governor Zhou Xiaochuan recently said that China should be aware of the deflation risks.
A number of loosening measures have already been rolled out since March, including significantly lower interbank rate and property loosening measures.
Song Yu, an economist at Goldman Sachs Group Inc, said: "We believe the government will maintain a loosening bias, and roll out more policy measures."
In terms of monetary policy, Song expects the next move to be a reserve requirement ratio cut of 50 basis points or more in the near future.
Yu Bin, director-general of the general office of the Development Research Center of the State Council, said that China's economic growth during the first quarter did not slip below a "reasonable range". It means the GDP target of "around 7 percent" could be reached in the first three months.
Yu also estimated that the country's exports would grow 7 percent this year, while retail sales may grow by 11 percent. Real estate investment growth would further slow from 10.5 percent last year to about 7 percent this year, while manufacturing investment growth would slow to 11 percent.