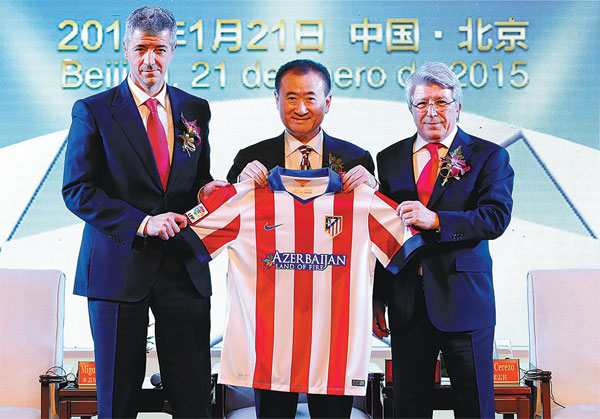 Wang Jianlin, Dalian Wanda Group chairman, holds an Atletico Madrid shirt, flanked by Atletico Madrid's President Enrique Cerezo (right) and managing director Miguel Angel Gil in Beijing on Jan 21, 2014. Wanda took a 20 percent stake in the Spanish La Liga soccer club. Xinhua
Chinese billionaire Wang Jianlin's buying spree is rolling-on.
His Wanda Group is reportedly within days of buying global sports marketing firm Infront from its parent company Bridgepoint.
Infront contracts the public relations for numerous international sports events.
The company is currently directed by Philippe Blatter, the nephew of FIFA boss Sepp Blatter.
The deal would give Wanda the exclusive rights to broadcast Italy's Serie A, which now is the property of Infront.
Wang Jianlin purchased a 20-percent stake in Spanish La Liga champions Atletico Madrid earlier this month.