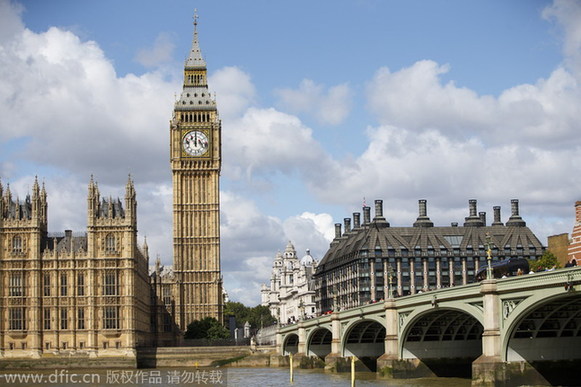 [Photo/IC]
Transactions involving vehicles, aviation and telecoms expand
Bilateral trade between China and the United Kingdom hit a record high in 2014, and China's investment in the UK also saw robust growth, a Chinese senior diplomat said.
The year was marked by enhanced China-UK economic cooperation, with bilateral trade reaching $80.9 billion, up 15.3 percent year-on-year, said Jin Xu, minister counselor of the economic and commercial office of China's embassy in Britain.
Bilateral trade has doubled since 2009, and the growth rate in 2014 was the fastest among European countries, Jin said. The target for this year is $100 billion.
The UK is China's second-largest trading partner in the European Union.
The portion of trade that involved vehicles, aviation and communications expanded last year, and China became Britain's largest supplier of electro-mechanical products.
China also surpassed the UK to become Jaguar Land Rover's largest market, he said.
The past year also saw some key mergers and acquisitions and China's investment in the UK exceeded $7 billion, Jin said.
Nanjing-based Sanpower Group Ltd, owner of the Nanjing Xinjiekou department store, agreed in April to take control of retailer House of Fraser in a deal valuing the company at more than 450 million pounds ($745 million), including 250 million pounds of debt. It was the biggest international retail acquisition by a Chinese company.
Infrastructure, property, research and development centers, advanced manufacturing and retail are popular sectors for Chinese companies investing in the UK, Jin said.
For example, China Life Insurance Co, the country's largest insurer, together with Qatar Holding LLC, bought a building in London's Canary Wharf for 795 million pounds in June.
In June, China Construction Bank Corp bought a central London office building off-market for about 110 million pounds.
And in September, Huawei Technologies Co Ltd acquired the UK's Neul, which specializes in the Internet of Things.
As of Dec 31, cumulative investment by Chinese companies in the UK exceeded $40 billion, making the UK the largest recipient of Chinese investment in the EU.
During Premier Li Keqiang's visit to the UK in June last year, the two countries stressed the importance of mutual investment in promoting long-term economic growth and employment.
Britain welcomed Chinese investment in infrastructure such as transportation and energy, particularly nuclear, high-speed rail, offshore wind power and photovoltaic projects.
Jin also said that China-UK financial ties were strengthened in 2014, as China's Construction Bank Corp was designated as the first Chinese bank to provide yuan-clearing services in the UK, and the UK government issued a sovereign bond in yuan, becoming the first Western country to do so.
Lloyd's has been awarded a license to establish a branch in Beijing and China's Industrial and Commercial Bank and Construction Bank Corp have been granted a license to set up branches in London.
Jin forecast that this year will be another year of breakthroughs in bilateral economic relations.
China's economic transformation and creative development strategy will not only boost its own growth but also offer greater opportunities for China-UK economic cooperation, Jin said.