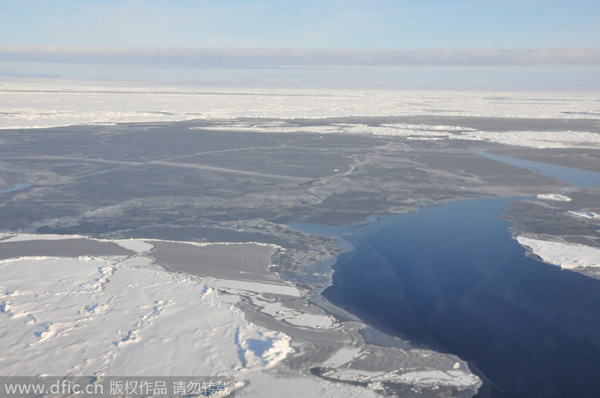 Photo taken in 2014, show the Arctic ice coverage. [Photo/IC]
TROMSO - China's energy giant PetroChina is willing to engage in cooperation in extracting oil and gas as well as other natural resources in the Arctic region, said a high-ranking official of the company on Monday.
Sun Xiansheng, president of the CNPC Economics and Technology Research Institute, made a presentation on Monday afternoon at the 2015 Arctic Frontiers conference, which runs from last Sunday to Friday.
PetroChina, which has oil and gas investment in 35 countries, has already involved itself in the Arctic through holding a 20 percent share in the Yamal LNG project, a joint venture with Russia.
"The development of Arctic resources requires joint efforts of all countries," Sun told a packed conference hall. "PetroChina is willing and able to participate in Arctic oil and gas cooperation to better promote the development of Arctic resources," said Sun.
It was the first time in many years that a Chinese company of this size was represented at the Arctic Frontiers conference, a meeting place for policymakers, researchers and businessmen from the Arctic Council member countries and observer nations to discuss the Arctic-related issues.
The theme of this year's conference, the ninth one, was climate and energy.
The Arctic region is abundant with oil and gas resources.
The US Geological Survey came out with an evaluation in 2008,
showing that the oil and gas resources in the Arctic amounts to 56.4 billion tons of oil equivalent, or about 22 percent of the global oil and gas resources awaiting development.
PetroChina is China's largest oil and gas producer and supplier with assets worth 2.342 trillion yuan ($378.4 billion) at the end of 2013, ranked No 3 in the World's Top 50 Oil companies in 2014 by the Petroleum Intelligence Weekly.