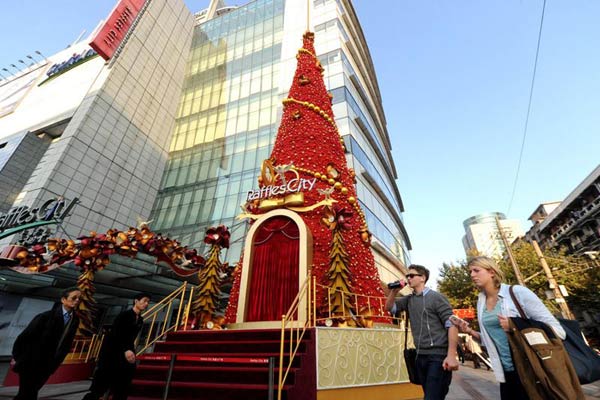 A red Christmas tree outside a shopping center in Shanghai, Nov 21, 2014. [Photo/IC]
It is a typical holiday scene in the United States: a decked-out Christmas tree, twinkling lights and a line of shoppers waiting for Santa Claus.
Except for one thing ... it is Shanghai.
Christmas retail displays are becoming increasingly common in China and other parts of the world that do not traditionally observe the holiday. Global brands and local merchants are promoting the yuletide season with sales, tinsel and events, aiming to get shoppers to catch the Christmas spirit-and open their wallets.
"When I was growing up, all I knew about Christmas was Santa Claus and that it was a Western festival," said Crystal Zhao, 23, a Shanghai resident. That has changed, she said. Though China is still mostly atheist and does not formally recognize the holiday, Zhao and her friends get together to check out the decorations in malls and exchange small gifts.
While the trend has been gaining steam for years, marketers are accelerating efforts this holiday season. Macy's Inc, Aeropostale Inc and Saks Fifth Avenue are working with e-commerce companies Borderfree and Alipay to offer Christmas specials directly to Chinese consumers for the first time.
Western retailers such as Tesco Plc and Carrefour SA are dialing up their Christmas promotions in China, said Adam Levin, chief executive officer of Levin Consulting, a Beachwood, Ohio-based firm that advises manufacturers and retail chains on overseas tactics.
"Retailers are smart," he said. "If something works in one country, let's try it in another."
Also contributing to the holiday's ascent in China is the growth of Singles' Day, a Nov 11 shopping event. It emphasizes self-gifting, along with the cachet of all things Western, said Ann Lee, author of What the US Can Learn from China and a consultant on US-China relations.
Younger people also are shopping differently now, Lee said. They are making more frequent and modest purchases instead of saving up for one large status item like a designer handbag. That lends itself well to a growing tradition of giving Christmas gifts, she said.
Zhao, the Shanghai resident, plans to buy her parents presents this year, even though they don't observe the holiday. The approach is different from Chinese Lunar New Year, when people exchange red packets of cash instead of gifts, she said.
"Chinese people like festivals very much," said Kent Wong, managing director at Chow Tai Fook Jewelry Group, which operates more than 2,000 outlets in China. "We like a reason to spend money."
Chow Tai Fook, the world's largest listed jeweler, is running promotions this Christmas, such as offering shoppers rebate coupons and throwing a big sale in Hong Kong.
Two Shanghai malls owned by Hong Kong-based Kerry Properties Ltd also have expanded their holiday offerings after testing a Christmas marketplace at one center last year.
On Christmas Eve and Christmas Day, the centers will have a live choir and band to entertain shoppers.
"Most shopping malls in China are in a slowdown from a retail standpoint, as online shopping is so big right now," said Hin Lui, creative services and production manager at Kerry Parkside in Shanghai. "There is a big push for retail malls to innovate, and how to bring people in to spend money is to create an experience for them."
Retailers are eager to stretch out the Chinese holiday season with Singles' Day on one end and Lunar New Year on the other, said Tom Gaffney, head of retail at Jones Lang LaSalle in Hong Kong.
His firm is predicting a 5 percent to 10 percent sales increase over the Christmas season in Hong Kong and the mainland, even as sales of luxury goods have suffered from a government crackdown on corruption.